External monitor
The first thing we will need to turn our laptop into a desktop will be a TFT monitor of a certain size. Our recommendation is to buy it, at least, 21 or 23 inches, especially considering that we can find models of these dimensions for just over 100 euros. We have used a 22-inch LG that we had in the storage room. It must have a Full HD resolution (1,920 x 1,080 dots) and a minimum quality level.
We recommend you start by looking at the offer of brands such as Asus, LG, Philips, or Samsung, which usually offer a very good quality/price ratio in their models.
In our case, we have been lucky since the LG monitor has RGB and HDMI output. It also integrates its own USB hub. What saves us from buying a USB port hub?
Keyboard and mouse
We have chosen Aukey products thanks to the fact that they are on Amazon. The most advisable thing is to look for a wireless keyboard and mouse that adapts to our preferences of touch, layout, and hardness of the keys. In addition, the mouse is ergonomic to avoid carpal tunnel disease.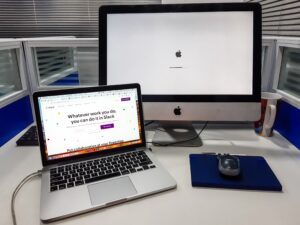 Get yourself a stand
We come to an element that probably many have not considered, but that, nevertheless, is essential to truly turn a laptop into a desktop PC. We refer to an Aukey cooling stand or base thanks to its price quality, which allows the laptop to be tilted slightly to work more comfortably with it on the table. This class of bases usually integrates fans, which improves one of the weak points of a laptop and that is that they heat up more than necessary.
Laptops become red hot if you have them on for several hours and the question arises again about whether laptop cooling bases are used for more than just draining the computer's battery. Do not hesitate to buy them. Heat is the worst enemy of your hard drive, motherboard, and battery. Laptops tend to get rid of the excessive heat caused by processors, hard drives, and graphics cards in two ways: passive and active. The active one is a small fan of the graphics or processor that comes out on the side.
Passive cooling sends, through simple physical contact, the heat of these components to other parts of the equipment that may be more ventilated, generally to the casing because it is the skin of the equipment. Lowering the lid will make it less cold. So it is vital to help him.
The bases help to reduce the temperature of some components by a few degrees. It is also advisable to see if the base includes a hub system so that we do not lose a USB port when plugging it into our laptop.