Not only can you connect your AirPods to an iPhone or iPad, but you can also connect them to your Mac. Apple's AirPods are one of the best gadgets released by the brand, and if you already have yours, you've probably paired them with your iPhone or iPad.
But what if you want to use them with one of Apple's computers? Well, you have nothing to worry about, since you can also do it. Fortunately, the process is pretty straightforward, especially if you're already familiar with these great wireless headphones. So, without further ado in this article, we will show you what you should do to connect your AirPods to a Mac, without dying trying.
How AirPods differ from conventional headphones
Since the first iPhone was released there in 2007, Apple has included a simple pair of wired headphones in the box, and if you've owned at least one iPhone or iPad, you've probably used them. Both headphones are linked together in a Y-shaped connection to an audio jack, which in turn connects to the phone.
Starting with the iPhone 7, Apple discontinued the traditional headphone jack and wired headphones came with a Lightning port connector. All wired headphones also have a media controller built into the cable, which you can use to play, pause, skip tracks, and adjust the volume.
AirPods are quite different. Completely wireless devices, they have no cables and are not connected to each other. Instead, both earbuds have separate Bluetooth radios and pair with your phone or other devices, like a Mac, through a Bluetooth connection.
This not only means that you don't need to deal with a tangle of cables, or have problems with your headphone jack, but if you have an iPhone 7 or later, you can simultaneously use AirPods while charging your smartphone through the Lightning port.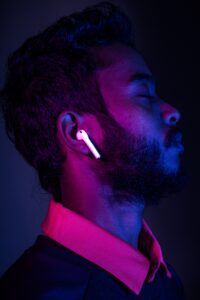 How to connect Apple wireless headphones to your Mac
If you've never connected AirPods to another device before your Mac, then you'll need to know how to get started. Although the steps are quite simple, you should know that it is, just a little, more complicated than linking it to an iPhone or iPad. Follow these instructions and your AirPods will be ready to use in a few minutes:
Open the case of your AirPods with the headphones still inside.
Then, on the back of the casing, push and hold the button until the status light flashes white.
Now, go to your Mac and select the Apple menu.
Select the System Preferences option.
Then click on Bluetooth.
Choose AirPods from the list of available devices and click Connect.
If you have AirPods from 2019 or newer, click Enable if you want to enable hands-free "Hello Siri" commands.
If asked about how to improve Siri and voice dictation, select Share audio recordings or Don't share audio recordings, depending on your need or preference.
What to do if your AirPods are connected to other Apple devices
You don't have to worry too much about how to connect AirPods to your Mac if you've already paired them to another Apple device, like an iPhone, iPad, or Apple Watch. If you've already done so, the headset will automatically and virtually pair with your Mac as long as it's supported by Handoff (on OS X Yosemite and later) and on both devices, you're logged in with the same Apple ID. There are only a couple of steps to change the connections:
Open the case of your AirPods.
Then, simply click on the volume icon in your Mac's menu bar, select the AirPods, and you're done.
And if you still don't really know your AirPods, you might be interested to know what the lights on their charging case mean.