Advertising has come a long way since it caught the fancy of the shoppers and the marketers, offline and online. Remember the good old days of print magazines and billboards for advertisements? It was a simple way of letting your prospective customers know about your offering and tempting them into visiting their nearest brick and mortar store to pick this offering off the shelf.
Advertising in 2022 isn't a cakewalk anymore
However, things have changed. Advertising in 2022 comprises a customer-focused approach to your product design, the target customer, their buyer's journey, the customer lifecycle, efforts towards lead generation, and sales conversions. Well, the jargon is never-ending if you are looking at the non-traditional approach of advertising i.e., the Marketing Funnel.
What is a Marketing Funnel?
Creating a Marketing Funnel is about adhering to a system in order to attract and convert customers (or clients) for your business. It is like pouring something through a funnel, wherein a larger quantity goes in, but eventually, the trickle is meager. Hence, when you create a Marketing Funnel, you are pouring leads (interested buyers/clients) into this system but at the end of the funnel, only a smaller number of people end up buying your product/service. A Marketing Funnel is also like a strainer where you go on eliminating the bad leads and put in efforts to close in on the good ones.
As per a report, 96% of visitors to your website aren't ready to buy anything (yet). With so much at stake, it is easy to believe that every organization/agency must be utilizing the prowess of the Marketing Funnel.
A Marketing funnel has stages that determine the journey of every lead that goes through it. Here is a breakdown of the stages (from broadest to the narrowest):
Awareness: The customer comes to know of the product/service
Consideration: The customer contemplates a purchase
Preference: The customer's research zeroes in on a brand; they make a choice
Action: The customer makes the decision; makes a purchase
Loyalty: The customer develops loyalty to the business
Advocacy: The customers start referring this brand to their friends/relatives
In a Marketing Funnel, marketing and sales work together seamlessly. While 'Marketing' is important for generating traffic at the top and through the middle of the funnel, the 'Sales' team comes in to take these leads closer to their buying decision, and ultimately close the sale.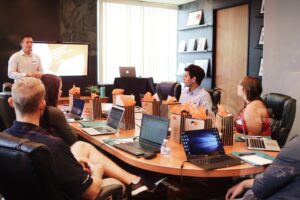 How a company can use a marketing funnel to plan business?
Getting started with a Marketing funnel can help business marketers focus more on generating high-quality leads and guiding them along the path to purchase. You can effectively create a Marketing Funnel for any of your business purposes: selling a product, asking viewers to sign up for webinars, or simply getting a form filled.
To be able to create a successful Marketing funnel that can convert, you need to lay yourself in your prospective buyers' shoes and map out their journey right from the moment they land on your website. A great Marketing Funnel makes your customer journey measurable.
A company can effectively use a Marketing funnel to calculate how well its traffic is performing in terms of bringing in sales. To accomplish this, the company obviously needs to know the conversion rates that work for them. Also, companies can calculate backward i.e. start from their sales goal and calculate how many MQL-s, and the traffic they need.
We just mentioned MQL above, so if you are a complete newbie, here is a bit of the basic to help you understand the elements of the Marketing Funnel better. A lead is a stepping stone towards the success of every business offering. Now, let's know more about them.
Qualified Lead: A Qualified Lead is the one that has figured out their pain point and is ready to address it with a solution. They have put in their time to know more about a solution that interests them. They also have allocated a budget towards investing in this solution and have listed their exact needs. They are capable of research and they usually close on their own terms.
MQLs (Marketing Qualified Leads): When a lead looks like it might be convertible, it is termed as an MQL. This lead can be pursued, and marketing efforts can be put into this lead in order to close it. Based on the level of engagement, a lead can be assessed as an MQL. A Marketing Qualified Lead is not ready for the buying stage.
SQLs (Sales Qualified Leads): Once the level of engagement of a lead is assessed and is qualified to be a prospective customer, the lead is termed an SQL. A sales qualified lead is in the buying stage and efforts can be put into it in order to close this lead.
How Small & Medium-sized Businesses can automate their Marketing Funnel?
All kinds of businesses need to square in on the decision of getting their own Marketing Funnel. Further, Small and Medium-sized businesses (SMBs) need to invest their time and money into automating these funnels because they probably need it more than the established institutions. There are four ways around this:
SMBs need to place programs/strategies that can drive traffic to their digital properties. Websites are a great platform for attracting leads and pushing them through the Funnel. The content on the website and the blog posts can be a huge traffic enabler for these SMBs.
It is very important that all your online and social media channels are up & running, and robust, especially your website. Always make sure that your website is well optimized, and loads swiftly.There are many server hosting services to be found these days, but if you'd like to have full control of your server, you should consider a dedicated server hosting that allows you to control all of the server resources. Analyzing this information beforehand will ensure that your business hosting and leads are interacting with a reliable platform.
SMBs need to automate their Marketing funnel by placing forms and other content on their website that can request the email of the interested visitors in order to capture them as a lead.
Next up in this automated system, SMBs need to empower their email integration systems with automated email sequences in place to follow up with the captured leads so that they can be further assessed.
Acting upon a lead in a timely manner is quite a key factor. Hence, all the captured leads must be met with diligence, calculated through Lead Intelligence, and passed on to the Sales team for further amplification.