There are several methods to delete more than one row at a time in an Excel sheet, and here we show you all. Excel is a spreadsheet application developed by Microsoft that is part of the Office productivity software suite, also owned by the company. The app is capable of organizing an immense amount of data in rows and columns, in which you can enter texts, numbers, and a great variety of formulas.
In addition, it offers many functions that can make your life much easier while using the program, since the truth is that with it you can do almost anything. And this time we want to tell you how to delete several rows in a Microsoft Excel sheet at the same time. So open your spreadsheet and follow the instructions.
In Microsoft Excel, You May Delete Numerous Rows at Once.
When it comes to handling a large flow of information and data, Excel is the ideal tool to record and organize them correctly. This app allows you to sort data in workbooks, create formulas, insert images or graphics, and even protect specific cells. Plus, it's packed with other formatting features to help you work like a pro.
But, there are times when you need to delete rows from your spreadsheets. This is an easy task if you are dealing with 1 or 2 rows, however, it can be time-consuming if you have to delete more than once in the entire document. If you do it manually you will lose valuable time, but luckily there is more than one way to do it in a simple and fast way.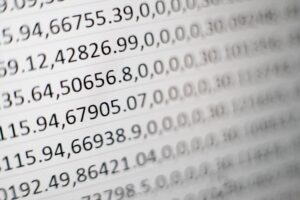 Delete Rows in Your Excel Sheet With Just One Keypress
The first method that we will show you is to delete the rows in an Excel document through your keyboard. Follow these steps:
Open the spreadsheet where you want to delete the rows.
Now, select the rows you want to delete by hovering over the first one and dragging the cursor to the rest of the rows.
You can also press the Shift key and click on the rows you want to select. This works if you are removing rows that are not next to each other.
After selecting the corresponding rows, press the Delete key or the Backspace key, and you're done.
You can also use the Delete row option in Excel
Another Simple And Quick Method to Delete Rows
Open your Excel sheet.
Select the rows you want to delete.
Right-click your mouse to open the drop-down menu.
Select the Delete rows option.
Click on All rows.
Then, click OK and the selected rows should be deleted without any major problems.
Delete the rows using a keyboard shortcut
If none of the above methods have worked for you, you can try using a simple keyboard shortcut to do so.
Once you have the document open, select the rows you want to delete.
You can also use a keyboard shortcut by pressing Ctrl + Shift + number of rows to select the consecutive rows you want to delete.
The number of rows must be from the first to the last that you want to delete. If for example, the last row is 40, simultaneously press Ctrl + Shift + 40.
Then simultaneously press the Ctrl and – keys to delete the rows.
And, which of these methods do you use to delete rows in Excel?
If you want to know much more about the Microsoft spreadsheet app, you cannot stop reading the 10 best tricks for Excel that you must know to become an expert.