Installing Kodi on a Chromebook is not a complicated task. We show you how to do it in a few steps. Multimedia content is perhaps the most popular source of entertainment these days. Either through series, movies, music locally, or through streaming, it is gaining more and more followers.
However, managing all this content is not always easy, since you depend on an app for each of them. It is there when alternatives like Kodi make your life easier, being a multimedia player that allows you to manage everything from one place.
What is Kodi?
It may not be a very popular name, but it sure will be in a while. It is a totally free open-source software specialized in the reproduction of multimedia content locally or in streaming.
What is Kodi and how to install it on a ChromebookWhat is Kodi and how to install it on a Chromebook?
The best thing about Kodi is its compatibility with video, music, and even image formats, allowing the management of all these no matter where you have them stored.
It has great compatibility with multimedia formats and together with its simple, very intuitive, and customizable interface, they guarantee you a very pleasant experience.
What can you do with Kodi?
As we mentioned previously, Kodi is a multimedia content player. In this sense, all you have to do is install it on your device and be able to enjoy playing video, music, or viewing images.
In addition, it is possible to play content locally or via streaming, since it has support for different protocols for exchanging files, including SMB or NFS.
What can you do with KodiWhat can you do with Kodi?
Another feature that makes Kodi attractive to many users is the ability to watch TV online or via DVR / PVR with the ability to record your favorite shows.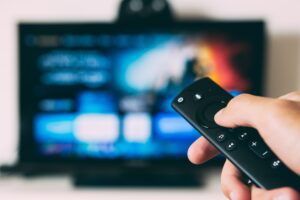 As if that were not enough, when combined with different add-ons developed exclusively for this player, it is possible to listen to almost any radio station in the world, podcast, and even play video games.
So you can install and start using Kodi on a Chromebook
Do you want to try Kodi? We tell you that it currently has compatibility with multiple platforms such as Windows, macOS, Android, iOS, Linux, Chromebook, and many more.
Here's how you can install it on the most popular platforms with just a few simple steps:
Install Kodi on Chromebook with PlayStore
If your Chromebook has compatibility with Android applications and has access to the Google Play Store, all you have to do is enter the Google Play Store and search for the "Kodi" app and install it. As simple as that.
Install Kodi on Chromebook without PlayStore
In the event that your Chromebook does not have access to the Google Play Store, its installation must be done using an. APK and for this, it is important that you find a reliable source to download the file.
So can install Kodi on Chromebook with and without PlayStoreSo you can install Kodi on Chromebook with and without PlayStore
Among the sites preferred by developers are APK Pure and APK Mirror. Once you have downloaded the installer, you will need to do the following:
Enter the Chrome Web Store to download ARC Welder, an application that although designed for developers, allows the installation of Kodi on Chromebook devices.
Now, with the help of the Chrome launcher install the Kodi application :
Open ARC Welder.
Click the (+).
Then select the APK option from the list.
Click "Open" located at the bottom right of your screen.
In the end, you will need to configure some necessary parameters to run Kodi, such as landscape orientation and tablet settings.
After this, it only remains to test the app.
Install Kodi extension on Chrome from Chromecast
If you want to configure Kodi from your Chrome browser on your Chromecast device, there is a very useful extension that you can install. Mainly because from ARC you can only test the application every time you want to use it. To solve this, just follow these steps:
Open Google Chrome.
Enter the browser options and select "More tools. "
Go to the "Extensions" section and activate the "Developer mode" box located at the top right of the browser.
Locate the option "Package extension" in the upper left. After opening a window, select "Browse" and locate the previously downloaded. APK file that you used in ARC.
Finally, select "Open" and finish the installation.
Install Kodi on Chromecast with Linux app support
The first thing you need to know is if your Chromebook is compatible with Linux applications. To do this, you need to have Chrome OS 69 or higher.
If you do not know what version your computer has installed, go to "Settings – icon with three horizontal bars in the upper left corner – About Chrome OS" and there you can detail.
Install Kodi on Chromecast with Linux app support
If you already know the version of Chrome OS that your computer is running, you will now need to activate the Linux options (if you haven't already) to install applications like Kodi. Go to "Settings – Linux (Beta) – Activate – Install". After performing this step, a window to download Linux applications will be displayed.
Once these steps have been completed, it is time to install the application by performing the following actions:
Start your computer and run the command Sudo apt-get update.
Now, you must run the following command Sudo apt-get install Kodi.
Clever. Just open the app and enjoy your content.
As you will see, enjoying your favorite multimedia content is very simple thanks to Kodi. Best of all, installing it is even easier. Of course, let's not forget that it is totally free and allows you to manage everything you want.