If you hide a song on Spotify, but later regret it, you can show it again. Spotify has positioned itself as the world's number-one streaming music service, and its popularity is growing. This is due, to a large extent, to all the options that it is fantastic offers to its users, such as the possibility of uploading your own music to the platform.
Also, it has other functions such as being able to create and manage your playlists, but one that we cannot forget is the one that allows you to hide and show songs in the service. And precisely, this article is going to show you how to hide and show a song on Spotify, step by step.
You can hide or show your songs on Spotify whenever you want
We have all ever had our reasons for hiding songs on Spotify or any other means of playback. Sometimes, it is to overcome a great heartbreak, other times, it may be because it brings you memories that you would like to erase, or you have simply gotten bored of listening to it over and over again and want to put it off your playlist for a while.
However, it is also possible that out of nowhere you feel that strange need to re-listen to a particular song (perhaps even a custom one). So we can say that Spotify gives you the opportunity to test your determination and self-control. So, if you feel brave enough to listen to those songs that you have put elsewhere, the platform allows you to do it in just a few steps.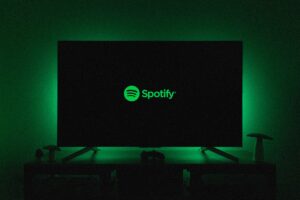 How to hide a song on Spotify
Before starting, the first thing you should know is that it is not possible to hide songs on Spotify from the web or desktop version of the platform. With this clear, these are the steps you must follow to do it from your smartphone with iOS or Android:
When it comes to hiding songs in the Spotify app, you can do it in two easy steps. First, open the song by searching for it or placing it in a playlist.
Then, click on the three-dot menu next to the name of the song to open more options.
Then simply click on the Hide song option.
Once you successfully hide a song, you will see it in a more subdued tone and it will have a red button next to it.
How to show a song again on Spotify
To recover a hidden song from Spotify for Android or iOS, you must first configure the application to show the songs that cannot be played. This is what you should do:
Enter the Spotify app on your mobile.
Enter the Settings menu of the application.
Then, click on the Play option.
Now, uncheck the switch next to Hide songs that can't be played.
Next, go to the playlist where the song you have hidden is. Scroll down until you find the song and click on the Hide button.
In this way, the recovered song can be played from your playlist instantly.
After this, there will come a time when you prove to yourself that a memory linked to a particular song no longer has power over you and you will have no need to hide it anymore, and you will surely enjoy it more than before.
This guide can be very useful for you in an emergency, but if you prefer to make a more radical decision and say goodbye to the platform, here is how to cancel your Spotify subscription.