A good Kindle is a perfect gift for lovers of literature, we will tell you what it is and why to buy it. A few years ago, it was impossible to think that you could carry thousands of books in your pocket. Today this is a reality that is gaining strength thanks to eBooks.
Things are changing and you no longer need to carry heavy books on you when you can easily download them from the Internet and have it on your mobile, tablet, computer, or eReader.
What is The Amazon Kindle?
The Amazon Kindle is an e-book reader. Although it has a similar appearance to a tablet, its main and only function is to store your favorite books, newspapers, or magazines in digital format to read them whenever and wherever you want.
Thanks to Wi-Fi connectivity, it is possible to connect wirelessly to the Amazon network where you can find an incredible library of books, magazines, and newspapers perfect for your enjoyment.
How to Gift Kindle eBooks
Precisely, one of the favorite tools for millions of users in the world to take their favorite titles with them wherever they want is the Amazon Kindle. If you still do not know it and you are a lover of reading, this article is for you.
Why Buy an Amazon Kindle?
Perhaps the main reason to buy an Amazon Kindle is its portability and the ease of carrying hundreds of books in your pocket. However, in order not to stay only in the cliché or more obvious answer, we tell you that:
There are different models according to your need as a reader, so you can find the one that best suits you and enjoy all your books. You can enjoy the Amazon Kindle store, one of the largest in terms of the variety of books, magazines, and newspapers of everything you can imagine. They are resistant, and despite being built with very light materials, they are able to withstand the passage of time in the best way.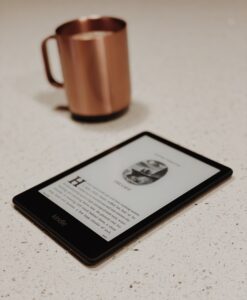 Amazon Kindle Unlimited to enjoy your favorite books. If you still do not know about Kindle Unlimited, you do not have to worry, since then we will explain it very easily. It is a monthly Amazon subscription in which you have access to more than a million books – and growing – for your enjoyment from your Kindle device.
Although this subscription shows you a fairly extensive catalog, it does not include all the books that Amazon offers for sale. However, there are more than a million, come on, there is plenty to read.
The advantage of this subscription in addition to being able to have this catalog of titles is that you can access it from your computer, or Android or iOS mobile device through the official Kindle app and enjoy the service. Yes, even if you don't have a Kindle device.
Unlimited to Enjoy Your Favorite Books
Amazon Kindle Unlimited to enjoy your favorite books amazon Kindle Unlimited to enjoy your favorite books Unsplash
Of course, as a policy of conditions for Kindle Unlimited, you cannot download more than 10 books at the same time, so you will have to clean your library once you finish or if you want to renew the catalog to read.
As for its operation, it is quite simple. You just have to go to the Kindle Unlimited website and register. You will then have a 30-day free trial to learn about the service and the platform. If it convinces you, then you start paying for the subscription.
Once you register, you will have access to the catalog of books which is divided into four categories: eBooks, Audiobooks, Comics, and Electronic Magazines. Now it only remains to start reading.
Something important that you should know is that the downloaded books are not yours, so if you cancel your account or unsubscribe, they will all be automatically deleted from your user.