Email is the medium of choice for internal and external professional communications.
These types of emails should be written in the same way as a formal letter.
Learn to do it in a completely professional way and improve your work image.
Despite the development of new forms of communication, email continues to be the medium chosen by professionals for internal communication within the company and with customers and suppliers.
Are you looking for a job?
Its importance necessitates that the email is prepared in the same manner as a professional letter. . In this way you make sure that you take care of the image of the company and that of yourself.
Would you like to learn how to do it? Learn to write your emails professionally with the following tips:
What you need to avoid in a formal email
By way of trying to get closer to the other, be it a client, colleague, or supplier … you try to use a certain type of phrase, but it is always good to set limits and not exceed them. For this reason, it is good that you do not opt for clichéd phrases such as "I hope you are well", "dear sir", "I hope I don't take a lot of time", "I wish you a nice day" or "I hope everything has been understood".
Do not use template greetings or farewells, nor should you use long sentences in the subject of the email. Make sure to take care of the recipient's address and not resort to chains, since it can be dangerous, depending on the type of mail you send and the information it contains.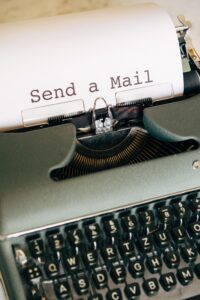 You must remember that email is not a chat, so you should not use it like that. Take care of your spelling and grammar and avoid the use of emoticons. Be brief, as time is of the essence in business. If you write too much or attach too many files, your email may not be read.
If you deal with important topics such as salary increases, problems with subordinates, bosses, collaborators, or clients, or if you intend to present your resignation, it is advisable that you speak it in person, since the mail can end up in the wrong hands.
How to write a formal email correctly
Remember that it is essential to include the email address and the subject of the communication. Don't use personalized or informal addresses, as they detract from your professional credibility. Nor should you use or play with upper and lower case.
Do not resort to phrases or informal greetings in the matter, but it is convenient that you make sure that it is specifically of interest to whoever receives it. Use a formal greeting without falling into clichés, be brief and concise, clear and complete, and unless absolutely necessary do not attach files.
For the farewell, you should avoid phrases such as "sincerely", "a cordial greeting", "kisses", and "hugs", and remember that the signature must include the full name, company logo, telephone numbers, and social networks.