Zoom has some problems related to the privacy and security of your data and here we tell you why you should think about it before using it
After the spread of Covid-19, video conferencing programs have become the primary mode of communication, and one of the most popular is Zoom. However, not everything that glitters is gold, and the well-known program is no exception.
And, there are certain flaws in the application that will probably make you opt for one of its alternatives. But, to clarify the picture, this time we want to present you with 5 reasons why you should not continue using Zoom.
Zoom collects and shares a lot of your data
If you haven't taken the time to review them yet, you may well be in for a big surprise with Zoom's data collection policies. The platform collects and shares email addresses, as well as information uploaded during video conferences and chats.
But things can be worse if you have signed up through your Facebook or Google account. This gives Zoom access to any information collected by those applications.
Privacy, Zoom's weak point
Just a few months ago, it became known that Zoom could be violating some security protocols, so the company made some changes to the service. However, the app maintains the stigma of video conferences recorded without user authorization and hidden from surveillance.
Furthermore, the service installs some software on users' devices without their consent. Bypassing such security measures, Zoom can remain on a computer even after the application has been uninstalled.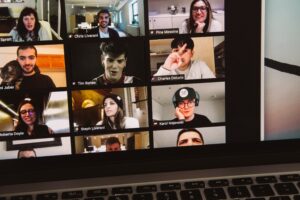 End-to-end encryption is not enabled by default in Zoom
Although Zoom offers end-to-end (E2EE) encryption for your meetings, this option is not enabled by default. Unless you enable it manually, your conferences will only use Zoom's "enhanced encryption", which is a much less secure protocol.
You can enable this protocol in your account settings, but to do so you will have to enter and confirm your billing information, even if E2EE encryption is free. Also, enabling this option will lock the Zoom conferencing features. Other services are not as strict, so you will surely want to try another alternative, such as Google Meet.
Zoombombing is still a problem within the platform
The famous Zoombombing is the act of entering a meeting uninvited and engaging in obscene or disruptive behavior within it. This phenomenon was widely reported by a large number of users at the beginning of the pandemic and continues to this day. Zoom has tried to fix this problem with passwords and popular lobbies but has so far been unsuccessful.
According to some researchers, Zoombombing has persisted over time due to legitimate conference members sharing passwords with hackers or attackers disguising themselves as other members. So the problem seems to be a bit out of control of the platform.
Large corporations have stopped using Zoom
If there is one thing that stands out, it is the fact that large companies such as Bank of America, NASA, or SpaceX (to name just a few) have publicly said that they would stop using Zoom. This is mainly due to the fact that the platform does not guarantee the security of your data.
This can be a starting point for many people around the world to decide to switch to other video conferencing services that offer more security.
Now that you know this information, you can try using one of the alternatives to Zoom. This way you will discover that there are not too many reasons to distrust other similar services.