Do you have difficulty accessing the network due to the existence of many partitions or simply due to the great distance in front of the router? Here is a selection of Wi-Fi Mesh repeaters.
It is possible that in some rooms of your house you do not get good network coverage. In these cases, using Wi-Fi Mesh repeaters may be the best alternative. Now, how to detect those models that may be interesting in the market? The key lies, mainly, in meeting a series of fundamental requirements.
The First Point to Take Into Account
is the ease of configuring the different equipment  It is necessary to connect the device to the network access point. In most cases, simply entering a password will allow you to repeat the signal. In addition, it is recommended that it emits the odd visual signal to identify that it is active.
Regarding flexibility, it is advisable to opt for an alternative that has, above all, web page blocking options or that has a high action ratio. In this way, you can prevent access to the network for longer than it is established. It is a highly relevant option since you will achieve greater protection against third parties.
TP-Link AX1800 Deco X20 (3 pack)
This set from TP-Link offers a coverage of up to 500 m² with a clear and strong signal. Thanks to the inclusion of a user manual, it is very easy to configure to extend coverage beyond what the original router offers. Get speeds of up to 1800 Mbps.
It has dual Gigabit connectivity technology, so 2 devices can be connected by cable without losing speed. The equipment of each Deco includes a wireless router, Wi-Fi extenders, and a power adapter. They are compatible with Amazon Alexa and HomeCare.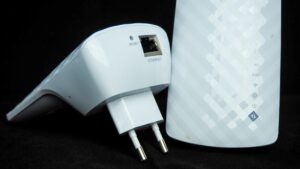 EERO Mesh WiFi System (3 pack)
Amazon also has its own mesh-type WiFi system at its EERO firm. This pack of 3 units is capable of offering coverage up to 460 m². You will be able to get the most out of your WiFi connection keeping it totally safe and secure. Plus, with TrueMesh technology, this EERO Pro intelligently redirects traffic to avoid the dreaded congestion on your local network.
TP-Link AC1200 Deco M4 (3 pack)
This router has the technology to distribute a fast, stable, and uninterrupted Wi-Fi connection of up to 1167 Mbps. In addition, it is designed to cover a coverage area of up to 370 m², so it adapts to your needs easily.
In addition, thanks to the provision of its own mobile application, it is possible to block certain web pages, as well as establish a maximum connectivity time if required. It is, therefore, a very interesting option to take into account to control Internet use.
Google Nest WiFi (2 pack)
This Google proposal is compatible with various communication options, such as cable, satellite, fiber, and ADSL. It uses WPA-PSK and WPA2-PSK security protocols, which greatly reduces the chances of third-party access to the network.
It offers Wi-Fi coverage of up to 210 m², a record that will be sufficient for most cases. In addition, Google has continuous updates to keep your network protected. You can easily manage the entire network from the Google Home app.