Gaming is an industry that seemingly gets increasingly mainstream as the years go on. 20 years ago, the Xbox and Playstation 2 appeared to be mostly devices aimed at children and teens. Today, those teens have grown up, and continue to play on their latest iterations. Finally, gaming is normalized and accepted, which has been why the industry has seen tremendous growth. 
This all came to a halt this year, though. We're seeing traders bet against video games, as the gaming industry sees sales decline in Q2'22. For example, DoubleDown Interactive has seen a 14% fall in Q2 sales due to "industry-wide headwinds", whilst video games sales more general fall by 13%. So, why is this? 
The pandemic comparison is unflattering
One cause behind the unflattering 2022 sales numbers is that it's coming off the back of the pandemic – a truly unique time in our lives that fundamentally shifted how we spent our time. With social distancing laws and temporary closures of typical places of entertainment, it's no surprise that many people were forced to dust off their old consoles and find more ways to have fun at home. 
This is reflected in the numbers, where between 2019 and 2021, the market expanded by a huge 26%, hitting a $191 billion record in market size.  
So, it was always unlikely that this growth would sustain after the pubs open back up and the world returns to normal. We can also see this reflected in the Netflix share price, which peaked at almost $700 in 2021, but is now around a third of that value. Although there are some other factors at play for Netflix, Disney also saw 2021 all-time highs but has declined significantly since. 
Video games aren't recession-proof
Of course, the biggest news story in recent months has been both the war in Ukraine and how it has affected commodity prices. Inflation is sky-high right now, and with a cost-of-living crisis in much of the world, disposable income is falling. 
Video games are seen by most as luxury goods, meaning they're price elastic. When real incomes fall or when their prices rise sharply, demand falls.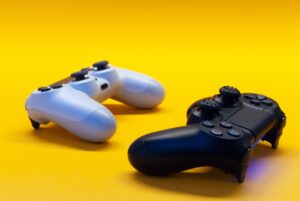 Most economists agree that the US, UK, and many other developed economies are headed for a recession this year. Piers Harding-Rolls, research director at Ampere, claims that the games industry is not recession-proof. 
It's not just the sales that are a concern for gaming firms either. The chip shortage and other supply-chain bottlenecks – coupled with cost-push inflation – are increasing their cost of production. 
Russia was the 10th largest games market in 2021, according to Ampere. So, the crisis that Russian citizens have faced in the past year, such as being removed from Swift, is also contributing to the industry-wide decline. 
Single game influences
Whilst there are continuously great games being released, we can't underestimate the impacts that single games have. For example, Warzone surpassed 100 million users in 2021, and Fortnite hit over $1 billion in sales from the two app stores alone.  
Today, neither game is as big as it was during the pandemic, and this can have a genuine influence on the gaming market as a whole. Whilst gaming enthusiasts may continue to play, many casuals may be waiting for the next big multiplayer hit to get them to dust off their controllers once again.