Microsoft announces a list of 50 Free Play games for Xbox One, Xbox Series X, and Series S that will not require an active Xbox Live Gold subscription. Among them are some of the most played titles of the moment such as Warzone, Fortnite, or World of Tanks.
In recent years, some of the most popular games are "free", which means they are known as Free-to-Play games, also known as F2P. However, they are maintained based on micropayments.
These games which can be found on Sony Playstation (developed by Sony) or Xbox (developed by Microsoft), can be very enjoyable and played without having to spend a single dollar. Under this title, we can find games such as Apex Legends, Fortnite, Warzone, or Paladins.
The Business Model of Free-to-play Games
There are a few categories for free-to-play games, but unlike Single player games, the model is mostly used in massively multiplayer online games, known as MMOs.
The business model of these online games is to get revenue from in-game sales like special items or abilities for the player, pack upgrades, and also advertisements.
There are many games that are developed for the F2P model. Once the players are familiar with the game after playing it for free, they can purchase in-game products and items. For example, the players can purchase access to new levels or new areas in the game.
There's also a gaming model that is based on advanced payment which is known as – Pay-to-Play (P2P). In this model, the player has access to all the games' content.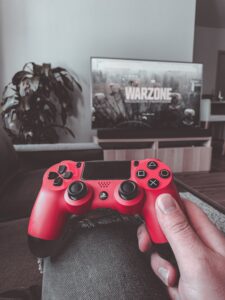 F2P on Consoles
Sony VS Xbox
On Sony Playstation consoles, games can be played for free without a PSN subscription. Until 2 months ago, Xbox users had to pay for the Xbox Live subscription to enjoy multiplayer free-to-play games.
Sony is making most of its revenue from live games. Fortnite alone made Sony $6 billion. Also, Rocket League, Warzone, and Apex Legends made Sony Billions of dollars over the years. In February 2022, Sony announced that the company is planning to release 10 live games by 2026.
Xbox
in February 2022, Microsoft announced a list of games that can be truly played for free on Xbox One and Xbox Series X without having Xbox Live Gold. That makes the F2P Xbox games accessible to whoever wishes to play them. Previous to this decision, if a player wanted to play a "free game",  the Xbox Live Gold subscription was required.
Here is the list of the Free to play Xbox games, which is evolving over time:
3on3 FreeStyle
Aegis Wing
APB Reloaded
Apex legends
Armored Warfare
Battle Ages
Battle Islands
Battle Islands: Commanders
Bless Unleashed
Brawlhalla
Call of Duty: Warzone
Crackdown
Crackdown 2
Crimson Alliance
Crossout
CRSED: FOAD
Darwin Project
Dauntless
DC Universe Online
Dead or Alive 5 Last Round: Core Fighters
Dead or Alive 6: Core Fighters
Defiance 2050
Destiny 2
Doritos Crash Course
Dungeon Defenders II
Enlisted
Eternal Card Game
Family Game Night
Fishing Planet
Fortnite
Galaxy Control: Arena
Gems of war
Happy wars
Harm's Way
Hawken
Hyper Scape
Killer Instinct
Korgan
Minion masters
Neverwinter
Outriders (Demo)
Paladins
Path of Exile
Phantasy Star Online 2
Phantom Dust
Pinball FX2
Prominence Poker
Realm Royale
Rec Room
Resident Evil Revelations 2
ROBLOX
Rocket League
Rogue company
Skyforge
SMITE
Spacelords
Spellbreak
Star trek online
Techwars Global Conflict
TERA
The Four Kings Casino and Slots
Too Human
Trove
Vigor
War Thunder
Warface
Warframe
World of tanks
World of Warships: Legends
Yaris
Although it is rare to have an Xbox and not have Live Gold, if you are one of those users who have an All Digital model and use it for these types of games, above all, you should know that you do not have to pay more.
Furthermore, there are paid titles that do not have multiplayer or do not have it as their main claims, such as Crackdown or Too Human, which are also in this list of 70 free-to-play games for Xbox.
The company has announced that more games are planned to be added in the future, so it seems like an ambitious plan.