Remote work is becoming more common and the idea of ​​working in the Metaverse is becoming more real.
While employers are enthusiastic about the new concept, employees tend to have concerns.
The biggest fears include real-time location tracking, and time and screen monitoring.
The Trust Project is an international consortium of news organizations developing standards for transparency.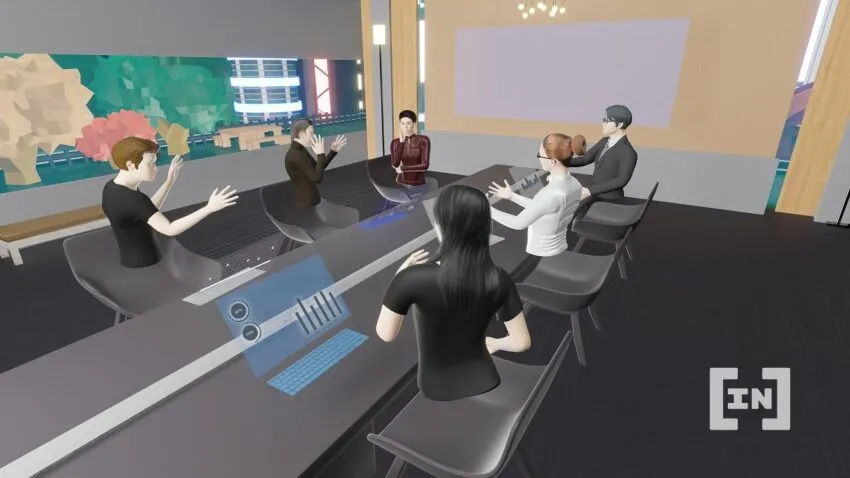 Employees aren't as enthusiastic about the metaverse as their bosses. Working in the new world brings with it some concerns for employees.
Metaverse games are among the most exciting things in the future of entertainment. But working in this new environment could be more of a worry, according to a new survey.
Will working in the Metaverse become the new norm?
Working from home has its perks. You can wear the most comfortable clothes and don't have to listen to boring stories from co-workers with whom you don't actually have anything to do.
A particularly big advantage of remote work is location independence. So you can do your work while sitting in the café and looking at the sea.
Working in the Metaverse also offers an exciting opportunity. It might take a while to figure out how to sit in virtual chairs or find the right virtual outfit for the sales session, but it's fun just to think about it. Meeting colleagues online in a virtual office with a waterfall and zen garden can't be that bad.
But despite all the fascinating things about such a workplace, there are also negative sides for the employees.
ExpressVPN partnered with Pollfish to commission a study in which 1,500 employees and 1,500 employers answered questions about working in the Metaverse.
Technological advances have increased productivity
90% of employees and 88% of employers believe that as technology has advanced, so has productivity when working remotely. Also, people feel more connected to their peers. 27% of workers say video conferencing is the best way to connect and engage with each other.
Another 32% of employers believe video conferencing is the best way to encourage collaboration. Additionally, 17% see working in the Metaverse as the best way to stay connected at work. Only 9% of employees share this view.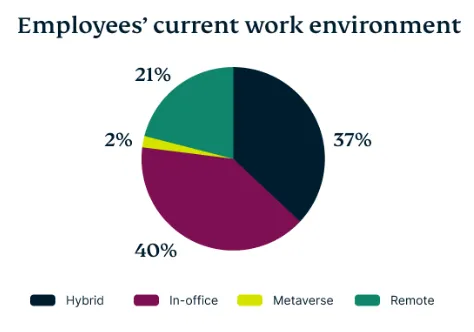 Overall, more employers than employees are curious and enthusiastic about the Metaverse. Regarding working in this new environment, 66% of employers like the idea, and 54% are optimistic. On the other hand, 24% of employees speak of fear, 20% of distrust, and 17% think that it will above all be confusing.
A major concern is the surveillance capabilities in such a workplace. According to the report's authors, " Employee monitoring software has grown in popularity among employers and the Metaverse will only increase the potential for such activity. 73% of employers confirm using existing surveillance tactics."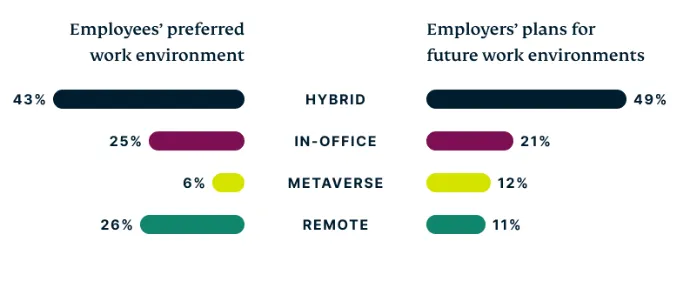 The Fears of Workers in the Metaverse
Workers list three concerns about real-time monitoring of specific data in the workplace. 51% are concerned about their location being tracked, 50% are concerned about their screen being monitored and 47% worry about time tracking.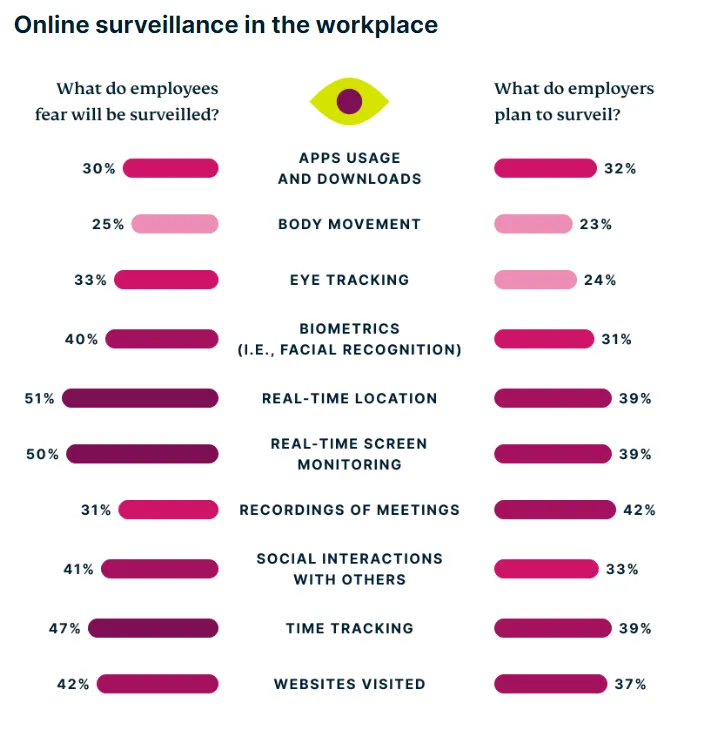 With this opinion, employees are not necessarily wrong. On the employer side, 42% want to record workplace meetings, 39% track time, 39% track real-time employee locations, and 39% monitor screens.
Harold Li is the Vice President of ExpressVPN. Workers, for the most part, are unwilling to accept further surveillance in the workplace. Therefore, employers should exercise caution when planning further such virtual workspace activities and whether it is worth the potential loss of trust and satisfaction among their employees."