To what extent will eVTOLs be the urban means of transport of the future? Here is one of the most interesting projects on the market.
For some time now, proposals based on means of air transport specially prepared to perform well in urban areas have become popular. Yes, it is very possible that in the future we will see solutions with shapes similar to those of a drone that has the capacity for dozens of people. They will also have marked routes as if they were a bus line.
Kelekona Unnamed eVTOL
It is a reality that, sooner or later, will be a reality. The first projects in question aim to anticipate the arrival a few years before with the aim of laying the foundations in this regard. These are the first steps that hold the key to understanding what type of products will be offered in the future. Among them, there is a product with great potential for development.
EVTOLs represent what the transport of the future will be like in urban areas. It is a proposal that came directly from New York. Curiously, this city would be one of the most benefited from a proposal of these characteristics for all that it represents. The eVTOLs, which is how the alternatives being considered are called, attract attention because they have a very interesting structure from a technical point of view.
The improvement of the available technologies has allowed that in the coming years it will not be a utopia to enjoy a series of solutions designed to get into the air and enjoy urban routes in a simpler and, above all, efficient way. Now, what requirements should a proposal of these characteristics have? The key to the product will be its autonomy and, of course, the security it offers.
Let's see, therefore, what the Kelekona startup contributes to an incipient market that, as the months go by, is receiving greater expectations from the public. Can you imagine that options such as the bus or the metro give way to this new way of understanding transport in the city? Here are the keys to its potential success, to what extent it is efficient, and at what level of development it is.
Kelekona eVTOL, an approach from New York City
The first thing that should be noted about the proposal that is being evaluated in Kelekona is that the means of transport envisaged could have a capacity for a total of 40 passengers. It is, therefore, an alternative that aims to standardize a valid offer for the ordinary public. In fact, its commercial success would be meaningless if it couldn't accommodate this number of people.
Among the qualities that most attract the attention of this proposal is the provision of a battery that has a capacity of 3.6 MWh. In addition, it is completely interchangeable, so that one could be used and replaced by another fully charged in just a few minutes. Even so, it will be possible to enjoy the maximum of its autonomy by keeping it plugged in for an hour.
The weight of the batteries represents around 80% of the total. However, as is logical, a greater battery capacity will imply having a greater weight in the vehicle as a whole. The first estimates suggest that it will set a total of 13,600 kilograms on the scale, with around 80% corresponding to batteries. Despite this, their performance will be well worth the present excess over the global one.
Well, what to say about the autonomy of the whole? As can be read in the specialized portal New Atlas, it is a proposal that will have, in principle, an available range of about 600 theoretical kilometers. However, it is too early to assess the certification of this first approach.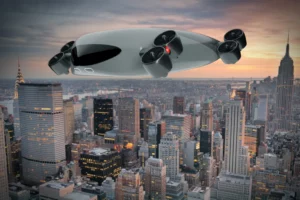 A startup that is focused on popularizing eVTOLs
These means of transport will have a long journey if the innovations come to allow it. The company in question, Kelekona, was founded in 2019. Since then, it has been working on one of the most prominent projects in this area. Even so, we will have to wait for a few months to know more details about this first job in question. Now, what else is known now?
EVTOL's will be world-class solutions in urban mobility in just a few years.
Among the data that has been released, it is striking how this vehicle must maintain a constant speed of at least 160 km / h in order not to lose height once the determined height is reached. This allows us to understand to what extent this proposal is designed for travel in urban areas. Its popularization in the United States is expected to be more noticeable.
In other geographic areas such as the European continent or Japan, the current configuration might not perform as well. This is mainly due to the configuration of the cities themselves. In this type of space, cities are arranged by building blocks with more floors, while in the United States, among others, cities are located across a space.