Do you have really important text messages on your iPhone at you want to print for archiving? For example, you may want to print the SMS with the conversion results related to your business. Printing text messages from an iPhone can be done in a variety of ways.
When viewing text messages on your iPhone, hit edit, pick all the texts you want to send, and then send them. But by following this method, you will lose all information regarding the date and time. Another way to do this is by taking a screenshot (press and release the Sleep / Wake and Home buttons simultaneously) and emailing them to yourself. If the conversation is lengthy, you will need to snap many screenshots to save the complete exchange.
iPhone copies SMS messages to a PC for printing
An iPhone SMS transfer program could also help you print iPhone text messages with your PC effortlessly and in no time. Follow the step-by-step guide below:
Step 1: Download and install the iPhone Transfer SMS program
First of all, you will need to download the iPhone SMS Transfer program and install it on your system.
download iPhone Transfer SMS by windows download by mac
Step 2: Activate the program and connect your iPhone to the PC
After installing the iPhone Transfer SMS Software program, activate it and connect your iPhone to the computer via the USB cable. The program will automatically show all your SMS on the iPhone as detailed in the following images.
Activate the program and connect your iPhone to the PC
Note: Please close iTunes software, otherwise this program will not work properly.
Step 3: Transfer all text messages from iPhone to PC
Click on any particular contact to check all SMS logs associated with that contact. Then, click the " Copy & Print " button, choose the HTML or PDF file format; these formats are compatible with printing (see steps 4b and 4c) and click Next. Next, you must click on the "Start Copy" button and choose the file path to save the iPhone SMS file on your hard drive. Select SMS from your iPhone can also be copied to your computer.
Note: This program also allows you to directly print text messages and you can also transfer text messages from iPhone to PC as text and in JPG (photo) format with this program.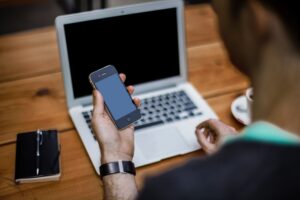 Copy SMS from a single contact
Step 4: Print iPhone text messages
(to). To print SMS from iPhone directly:
To print all or selected messages from a particular contact, select that contact, click the "Copy & Print" button, and select the "Print" option from all available options. Now select the text messages you want to print and click the " Start Print " button as shown in the image below:
to print SMS from iPhone directly
(b). Open the PDF file in any PDF viewer and print (New):
If you need text messages from your iPhone for some legal procedure, then the PDF format can be very useful for you. You can open the PDF file that you created in step 3 in any PDF viewer like Adobe Reader and instantly print your text messages.
Note: This program exports iPhone text messages in PDF / A format that is specialized for the digital preservation of electronic documents.
Export iPhone SMS to PDF and print
(c). Open the HTML file in your browser and print:
To print SMS messages, double-click the HTML code to open it in your normal browser, then hit CTRL + P (on a Windows PC) or Cmd-P (on a Mac) from your iPhone.
Tip: With the HTML file compatible with iOS 7 themes, you can print your text messages almost exactly as they appear on your iPhone.
Export messages from iPhone to PC / Mac and print
Tip: You can also make use of this program to back up or copy SMS from iPhone to computer as .txt and .ants file format (editable).