Historically, it has been the PC and consoles that have provided us with high-quality video games. Smartphones, on the other hand, have become increasingly essential over time, with some even hosting major eSports competitions. We now have highly capable and entertaining games on Android, so you may wish to imitate one on your PC, and we'll show you how.
Android Games on PC
To start you would need a relatively powerful PC, with a decent processor and RAM to play the best Android games without problems. Nor will we give you specific minimum requirements, but at least a CPU with at least two cores and can be more than 4GB of RAM. In my case with my PC, I have dedicated 2 cores and 2GB of RAM to the emulator and it has worked very smoothly. To take account.
Bluestacks, an Android emulator for your computer
Bluestacks is an emulator available for Windows and Mac OS in which you can emulate your Android games and applications. You just need to download it for free from the official website.
Once downloaded and installed, when you open it, the first thing it will do is ask you to enter your Google account.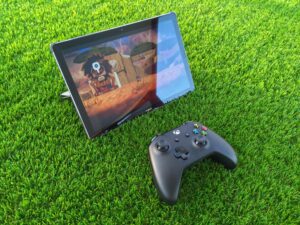 Google Bluestacks account
We enter it and we can access the Play Store, there we look for the game we want and we install it as if it were our mobile phone.
Asphalt 9 – We install it and once installed, we are ready to play.
Android asphalt emulator
The experience has been good, I have not experienced lag or anything strange, and the controls with the keyboard are very intuitive. The problem is that I wanted to play without a keyboard, with some alternative, and although it detected it and I have been able to adjust the controls, I have not been able to play with my XBOX controller.
The people of Bluestacks claim that this emulator works faster than a Galaxy S9 +, the truth is that it has been very fluid. I suppose it will be digging to finish adjusting it as you want, but it is installed and played.
Also at the beginning, you have a launcher for your applications to access directly,  something like your games library.
library of games and apps in general, it is a good experience, although it should also depend on the PC you have, in general, all or almost all PCs are more powerful than mobile, so it should not be much of a problem for most of them.
Also, if you are interested,  this program also allows you to emulate applications on your mobile phone, even if they are not games. An option that is never bad.