One of the best accessories that should not be missing on your smart TV is a Chromecast.
Yes, the Google dongle that allows you to send the content on the screen of your phone or tablet,
is a much more useful device than you imagine.
The problem is that Apple and Google don't get along very well.
Therefore, iOS does not support Chromecast.
iOS
Does
Not
Support
Chromecast
Officially, you cannot send content from an iPhone or iPad to a TV that has the Chromecast connected.
But, there is a solution that will allow us to use the acclaimed Google dongle with your
Apple phone or tablet.
Of course, with some limitations.
We are talking about the Replica application, available in the App Store, and that will allow you to use your phone to mirror the screen using the great G gadget.
Yes, you can use your iPhone or iPad with Chromecast, but on a limited basis.
We are talking about an app that offers the possibility of mirroring your Apple phone in a very simple way.
To begin with, say that Replica is a free app, although it has a paid version that allows
one to access certain extra features, such as choosing the streaming quality.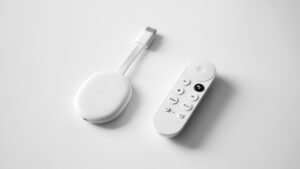 On the other hand, its ease of use is one of its great points in favor.
More than anything because the only thing that is necessary is that we are connected to the same WiFi network as the
TV to which we have connected the Chromecast.
Then it will directly detect the television, and it will only be necessary to click on the corresponding button (Start) to use it.
The Problem
The problem is that this tool is somewhat limited. More than anything because the main content on-demand services do not work.
No, you will not be able to use Replica to send Netflix, HBO, Amazon Prime Video,
and other OTT content to your Chromecast through your iPhone or iPad.
But on the other hand, you can duplicate the screen of your terminal to play video games or watch videos that you have recorded.
Final Words
There is a paid version that allows you to choose between different streaming qualities.
We recommend trying the free version, and once you confirm that its functionality is more than enough for
your needs, go for the paid option to have better image quality when playing content with your iPhone or iPad using a Chromecast.