We show you how to connect your Disney + account with Google Assistant and what advantages it offers you. Smart TVs allow us to install Google Assistant and use it to simplify many of our daily tasks, even in leisure time, it serves as a remote control to operate our smart TV from anywhere in the house, with the help of the smart speakers from Google.
Today we are going to tell you how to link Disney + with Google Assistant to be able to see the programming not only from a smart TV but also on a speaker with a Google screen.
How to link Disney + With Google Assistant
Linking the Google Assistant application with Disney + or other streaming video services is very easy, below we detail the step-by-step:
The first thing to do is open the Google Home application from an electronic device, such as an Android mobile, an iPhone, an iPad, or a tablet. Then click on the "+" sign in the upper left corner to add the Disney + service.
To Add the Disney + Service go to Google Home> "+"
Select the Video option to add it from Manage Services.
From "Manage services" add the option "Video"
Within the list that appears, choose Disney + and tap on Link.
Select Disney + and then click on "Link"
You will see a box with a message that reads: "Link your Google account to Disney + to enable playback on compatible devices. When you interact with the Disney + Service through Google Assistant, your inquiries can be sent to Disney + for use in accordance with their privacy policy. Disney + may provide you with personal results and personalized recommendations. You can terminate your account at any time in the Assistant settings. " Then you must click on Link account to link the service with your Google account.
"Link account"
A Disney + login screen will open, enter your information there to access your user account.
Sign in to Disney + to link the account with Google Assistant
Select the profile you want to link
Click on the Confirm button so that the profile is selected.
To finish, confirm the selected profile.
And that's it! You have linked Disney + with Google Assistant. From now on you can tell your smart TV, Google Nest smart speaker, or Google Home things like, "Ok Google, play …" and it will automatically start playing the series or movie you have chosen to watch on screen.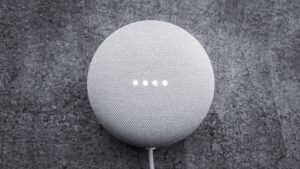 What Are The Advantages?
Undoubtedly, using the Google account linked to Disney + gives us much more comfort, we can also have the entire catalog at hand to see it from the screen of the smart speaker or from other devices just by asking Google Assistant to show it to us.
From the moment you link both services, you just have to tell Google Assistant to show what you want to see on the screen, even if there are several televisions or devices in the house, you can tell Google Assistant which TV you want to see the programming of Disney + and the content will be displayed on the specified screen.
If you have a Google Nest or Google Home device, you can ask Google Assistant to remind you of the premiere date you are waiting for, the start of a new season of your favorite series, etc.
Well, although it is not essential, we are not going to deny that it feels very good to have the power to manage your devices just by giving an order, that is thanks to our friend Google Assistant.