Despite its aim for a record-breaking night, Fox fell just short of its goal for the Super Bowl game between the Kansas City Chiefs and Philadelphia Eagles. Fox had hoped that the game's matchup of two top teams and a close finish would lead to record-breaking viewership numbers.
An estimated 113 million viewers tuned in making it the third most-watched television show in history. The data, which includes both Fox and Fox Deportes broadcast as well as streaming on Fox and the NFL's digital sites, was released by Nielsen's Fast National data and Adobe Analytics.
Record-Setting Digital Feed Viewership
According to Adobe Analytics, the Super Bowl digital feed averaged 7 million streams, which is a Super Bowl record high. This is an 18% increase from last year, and more than double Fox's last Super Bowl in 2020, which had 3.4 million streams. It's the third straight year that the streaming average has surpassed 5 million. In contrast, the first Super Bowl to be streamed, in 2012, had an average of only 346,000 streams.
Halftime Show Ratings a
Rihanna's halftime show drew an average of 118.7 million viewers, making it the second-most-watched halftime show in Super Bowl history. Katy Perry's 2015 performance holds the top record at 121 million viewers. The Spanish-language broadcast was down from last year's record of 1.9 million on Telemundo, which has broadcast affiliates in 90 markets, unlike Fox Deportes.
Unsurprisingly, Kansas City and Philadelphia were the two highest-ranked markets, with Kansas City leading the way with a 52.0 rating and 87 shares, followed by Philadelphia's 46.3/77. The rating is the percentage of television households tuned in, while the share refers to the percentage of the TV-watching audience viewing a particular program at the time. Cincinnati and Minneapolis also recorded 77 shares.
Heavily Star-Studded Ads
During the Super Bowl game, there were a lot of celebrity endorsements from Ben Affleck, Ozzy Osbourne, Matt Damon, Maya Rudolph, Martha Stewart, and "Breaking Bad" cast members. Companies were searching for well-known names for a boost, as trust in brands is reportedly down this year.
Final Nielsen data, including the English-language television-only figures. After Super Bowls averaged over 100 million viewers from 2010-2018, four of the five games before this year fell short of that number because of cord-cutting.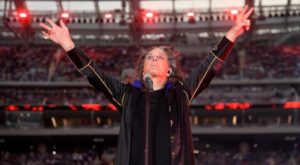 The Super Bowl between Tampa Bay and Kansas City had a TV-only average of 95.2 million viewers, the game's lowest TV-only average since 2007. If this year's number can surpass last year's 99.18 million, it would be the first time since 2015 that there were two straight years of increases.
Takeaways for Advertisers
This year's Super Bowl saw a record-setting viewership on digital streams, indicating that advertisers should focus their efforts on digital channels to reach a broader audience.
The lack of a primary brand that took over the Super Bowl means that businesses should continue to invest in celebrity endorsements to gain brand awareness and recognition. Companies are urged to pay attention to audience demographics and interests to make ads that resonate with the viewers, creating trust and loyalty.
Finally, businesses should be ready to adjust their marketing strategies to meet the ever-evolving needs of the viewers and achieve better results. The strong viewership numbers for the Super Bowl are good news for Fox, which reportedly charged an estimated $5.5 million for a 30-second commercial spot during the broadcast. In total, the network is believed to have made more than $400 million in advertising revenue from the event.
All in all, the strong viewership numbers for this year's Super Bowl are a positive sign for both Fox and the NFL. While the ratings may have fallen just short of breaking records, the fact that the game attracted an estimated 113 million viewers suggests that interest in the event remains high.
As the world continues to grapple with the challenges of the pandemic, events like the Super Bowl provide a welcome opportunity for people to come together and enjoy a shared experience, even if that experience takes place from the comfort of their own homes.
Summary
Fox fell short of its goal to break viewership records for the Super Bowl between Kansas City Chiefs and Philadelphia Eagles, with an estimated 113 million viewers making it the third-most watched TV show in history.
However, the digital feed had a record-breaking high of 7 million streams, up 18% from last year. The halftime show drew an average of 118.7 million viewers, and the game was heavily star-studded with celebrity endorsements.
Advertisers should focus on digital channels and celebrity endorsements to reach a broad audience and gain brand awareness. Fox reportedly made over $400 million in advertising revenue from the event, and the strong viewership numbers are good news for both Fox and the NFL.