Gmail is not working properly today –  Monday, February 27, 2023.
While it is uncommon for Gmail or Google to experience issues with login failures or service outages, they can occur from time to time.
Although Google offers a Gmail status checker, it is frequently not updated in real time.
Based on the data provided by Downdetector service, it appears that 7434 Gmail users are currently experiencing issues with the service. The reported Gmail outages have occurred within the last 24 hours.
As of today, February 27, 2023, the most frequently reported issues with Gmail are related to server connection (86%), login (10%), and receiving emails (4%).
Users are facing slow responses and 502 errors from Gmail. It looks like this: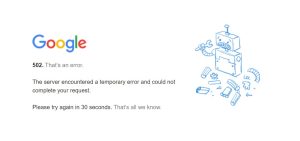 Google Workspace Status Dashboard
On this Google Workspace Status Dashboard, google shows the status and information of google workspace.
It seems like most of the issues Gmail is facing in the last couple of days are caused due to the IMAP syncs with Microsoft servers. As of February 22, 2023, at 11:54 PM UTC, google's engineering team was collaborating with the Microsoft team to investigate the email synchronization issue via IMAP.
Gmail Microsoft servers sync via IMAP
There are currently issues with syncing Gmail application with Microsoft servers via IMAP, which is causing synchronization problems. Users accessing Outlook or Hotmail email accounts through the Gmail application on any device platform are unable to synchronize new messages.
According to an update, the Microsoft team has acknowledged that other major email providers besides Gmail are also experiencing syncing issues with Microsoft's IMAP server. Google team updated that they resolve the problem.
We do not know if gmails issues today, Feb 27, are related to the sync with Microsoft.
At present, there are no official announcements from Gmail developers about when the service will be restored. We hope to receive an update on this news as more information becomes available.
If you are experiencing issues with Gmail, we recommend refreshing the page periodically and following our updates, as we will provide new information in real-time. Additionally, feel free to leave a comment and attach a screenshot of the problem you're encountering.