Buying a Trailer for e-Bikes
Here is a new proposal to expand an innovative tourism model. Electric motors are making a very positive contribution to mobility. The car without electric emissions accessible to the public is now a reality.
For some time, they have become popular in the face of the potential decline of internal combustion mechanics. There is a long way to go, but it is expected that there could be a lot of development of battery-based options.
However, today we do not want to show you what new developments have arrived in the sustainable car market. Failing that, we will show you how electric bicycles can provide new solutions with a great future ahead of them.
More specifically, we will show you how the caravan sector could be a success in conjunction with this mode of transport.
A New Sector with great potential is the trailer for electric bikes which may even become much more fashionable in the future. To understand this crazy proposal, it is worth mentioning the Mody project of ModyPlast. It is a solution that seeks to offer a new market that, at present, does not have a large following.
It basically consists of the inclusion of a low-weight caravan trailer designed to take advantage of the trips by electric bicycle to spend a night in the mountains.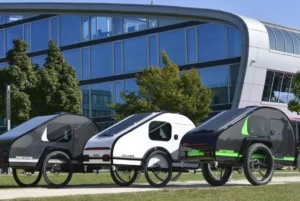 Touring by electric bikes with ModyPlast's 'Outdoors' teardrop camper trailer
In some countries, this type of tourism is gaining greater acceptance. Even more so taking into account the social limitations that the pandemic due to Covid-19 is causing. To be able to use equipment with these characteristics, it is essential that the towing vehicle has pedaling assistance, since only in this way will it be possible to travel several kilometers a day.
Let's see, in more detail, what are the main qualities of this revolutionary technology, why we are facing a product that can change the way of understanding tourism over the next few years, and, of course, what characteristics make this kind of caravan in an interesting option to consider. Can you imagine spending the night in a place like this?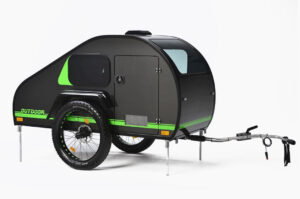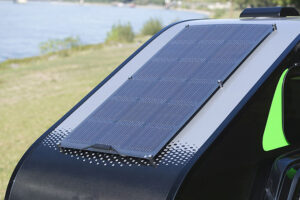 New practical and cheap alternatives for caravan tourism
As can be read on the New Atlas technology portal, it is a project with a long commercial journey. The first thing to mention is that it is available in 2 configurations, one made of carbon fiber and the other built on the basis of fiberglass. At the same time, the 26-inch wheels can be focused on trekking or intended for road use.
Mody by ModyPlast is a caravan designed to be able to enjoy a very complete route with the electric bicycle.  The design of this caravan is designed, especially, to develop a differential activity in the field of efficiency. That is why it has a very characteristic design, in the shape of a drop of water. Now, what will we find inside? It is designed to cover all the needs to spend the occasional night out in the open without any problem.
This caravan increases the user's options for getaways of a couple of nights. Its dimensions are contained, its dimensions will be 208 x 86 x 102 centimeters. Among the equipment, it is unknown if it has its own mattress inside, but the truth is that the coupling of a personal unit is possible. It is designed for individual use, something logical considering that a light structure is required for easy transport.
While not in use, the excess space can be used to carry items that are needed on any camping getaway. It is easy to attach folding chairs, a table, and the essentials to be able to cook. In fact, it has a portable kitchen that is very easy to install as an additional option. Even a photovoltaic panel will allow you to have electricity!
A growing sector that hopes to add new users soon
It is important to take into account the differences between the versions based on carbon fiber and those present on fiberglass. While the former, empty, weigh a total of 42 kilograms, the latter must settle for 48 kilograms. It is not a very noticeable difference, but it will be noticeable if you intend to cover many kilometers each day.
ModyPlast is a product that is expected to be very popular in the years to come.
In relation to the price of each of the alternatives, to get a unit produced in fiberglass, you will have to face the 4,999 euros it costs. On the contrary, if what you are looking for is to have the lightest possible product, the version made of carbon fiber is available against payment of 6,999 euros. Are we facing a competitive offer?
Would you buy a product with these characteristics at these prices? It is too early to know what your success will be. To know how it will unfold in the future, we will have to wait a while yet.
The pandemic has changed consumption patterns, so it is possible that the level of sales allows us to understand that a new way of camping in the middle of nature in a sustainable way has appeared.