On November 10, 2021, Bitcoin (BTC) hit an all-time high and reached $69K. Ethereum (ETH) scratched $5000, and many crypto traders began taking their profits.
it didn't last long though, and Bitcoin fell from its all-time record. 
Since the beginning of 2022, it seems like Bitcoin is trying to reach $40,000 but doesn't have much success. The past few weeks were a bit harsh for the digital currency. A month ago, on January 22, Bitcoin was traded for the lowest price since July 2021 and stood at $35,000.
Today, 22.02.2022, while writing these words, Bitcoin stands at $38,316 and Ethereum's price is currently $2,766.
The reasons for Bitcoin falling
There are a variety of events that affect Bitcoin's price along with the rest of the Cryptocurrencies.
The latest news came from Russia and its central bank in Moscow which announced to ban on the mining of Bitcoin and Crypto transactions in Russian territory.
As we already know, China's government has been pushing out crypto mining from the country, fighting to get it cleaned out from their land since May 2021. This issue caused many Crypto mining farms to relocate to Kazakhstan. With 50,000 computers, the country had become the second large country in the world where crypto is mined. This growth caused massive energy consumption (allegedly) and crypto transactions worldwide were slowed down.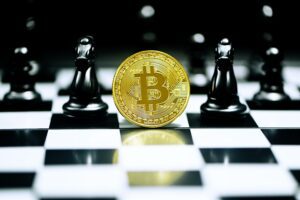 In early January, the Kazakhstan government announced the rise in electricity prices which led to riots and violence in the streets, and crypto mining centers were caught off from their power supplies.
While US Federal Reserve is exploring a digital dollar currency, In India, CBDT chief JB Mohapatra announced a new tax of %30 on digital assets and Crypto holdings.
Social media is also a big part of our lives, once Millionaires and Billionaires discuss their opinion on crypto assets, there's a huge buzz that affects the Crypto markets. For instance, Elon Musk tweets about Tesla accepting Bitcoin payments (March 2021) while in May 2021, he announced that this option of purchase is suspended due to the environmental price of mining Bitcoin.
Summery
Crypto price changes are often caused by different factors such as announcements by key people, governments, inflation high, investors, and Crypto traders.
It's well known that Cryptocurrencies and Bitcoin are risky assets. BTC's rate might face more changes, we cannot be sure where it's heading next.