It's no secret to anyone that Google offers the best extensions for Chrome and that with them you can do almost anything in the great G browser. And its possibilities are endless.
If you are a Twitch user, for example, you can improve your experience with these 5 extensions for Google Chrome that we present below. You can not lose this!
Unwanted Twitch
If there are some channels, games, tags, or categories that you never want to see, this is the ideal extension for you. It is very easy to use, after installing it, you will see an icon of an X in the upper right part of the panels on the different pages of Twitch. All you have to do is click here to add that item to your block list and you won't have to see it on the platform again.
To see what you have hidden or blocked, simply click on the extension icon in the top right of the browser and select Manage Blacklist. There, you can see everything that is hidden and show it again, if you have changed your mind. It is a simple extension, but quite useful and you would not lose anything by trying it.
FrankerFaceZ
This is the most complete Chrome extension for Twitch you can find. FrankerFaceZ offers so many possibilities that it would be difficult to list them in detail, however, we will make an effort. Some of them are geared toward moderators as well, so they won't be helpful to general viewers.
The extension allows you to hide the Unfollow button to avoid pressing it by accident, automatically open chats when opening a page or channel offline, change the font and design of the chat. Also, you can add keyboard shortcuts to the gesture menu, display messages in bold when mentioned, create multiple profiles, and much more. As you can see, the possibilities are many.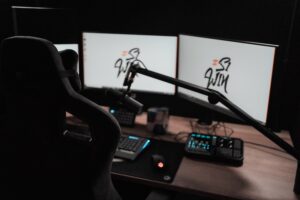 Twitch Now
If you want to keep up with what's happening on Twitch while browsing other sites on the web, Twitch Now may be the solution. In the extension, you will be able to see the number of channels that you follow and that are currently online. There are also tabs for the games you follow, categories, and most popular streams, and you can even search the platform directly from the extension.
Twitch Now will notify you when a channel you follow connects and you can customize and adjust the channels you want to receive these notifications from. Of course, for the extension to work, you will have to log in to give it access to your Twitch account.
Twitch Favorites
In a busy broadcast, it's easy to lose your friends' messages, but luckily this tool provides an easy way to make the messages that matter to you stand out. Simply, you will have to add your favorite Twitch users to the extension, and it will automatically highlight their messages.
You will only have to enter a username to add it to the list and it will begin to be highlighted in any Twitch chat. In addition, it is compatible with other extensions on the list and is an excellent option if you do not want to miss anything that your friends say within the platform.
BetterTwitchTV (BTTV)
As the name implies, this extension is capable of offering a ton of features that enhance your Twitch experience. It has a long list of tools that include an advanced gesture menu, a Host button in the chat, an option to show deleted messages, hide users or annoying messages, add keywords, among others.
It's also easy to use and it's really amazing what it can put at your disposal. Whether you just want to hide some unnecessary UI elements or add useful shortcuts to Twitch, BTTV is worth downloading.
If you want to know any other tricks about Twitch, we invite you to discover how you can block someone on the platform.