Visa and MasterCard, both US-based companies that have long enjoyed ubiquitous usage worldwide, should start worrying about their dominance in Europe. 
Twenty European banks had formed a European Payments Initiative (EPI), which is a central bank-backed payment system. It was previously known as PEPSI – Pan European Payment System Initiative – that was set to rival these two brands. The main idea was to replace the European payment schemes. 
The idea was born in 2008.  Till today, there were 31 banks and 2 payment service providers across 7 European countries that are members of the EPI program. In 2022, several banks from Germany, Poland, Spain, and Finland, had left the program. 
Is the American Hegemony in Danger in Europe?
Whatever the key differences between Visa and MasterCard, they are both the most popular credit cards in the world, Europe included. Visa and MasterCard's influence is such that they can easily decide to boycott companies or websites if they decide to. 
Both credit card providers moved to suspend payments to WikiLeaks in 2010 when its founder, Julian Assange, was arrested by the police. They also decided to stop their services to the Russian banks that were targeted by American sanctions in 2014, when Russia annexed Crimea.  
"It is also enough that an upset American president makes the decision to cut the payments and there, we will see our dependence," declared a banker interviewed by AFP.
Given these examples, as well as the current geopolitical and trade tensions between the US and the rest of the world, Visa and MasterCard have too much power for Europe to ignore. For the European Central Bank (ECB), European dependence on US means of payment is an important political issue, one of financial and economic sovereignty.
Can European banks work together on such a complex project? 
The reasons why many EU-based banks are working together to create an independent payment system are obvious. Backed by the ECB, the EPI project could allow European countries to reduce their dependence on the United States and redefine Europe's financial and economic sovereignty, thus enhancing its economic power. 
But independent European countries still need to work together on this initiative – not an easy task, as each country has its own interests, and will defend its own payment habits and payment schemes. European countries need to overcome their domestic financial infrastructures and habits if they want to provide themselves with a real alternative to American payment systems in Europe.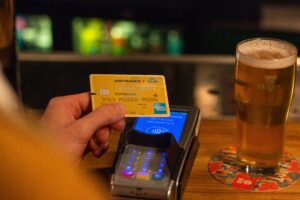 "Individual countries are more exposed to financial spillovers and to the aggressive trade policies of foreign states, while increased competition makes it harder for states to coordinate with one another to enforce regulations and set standards so as to achieve their goals. […] In this environment, countries need to work together to exercise sovereignty," explained Mario Draghi, former President of the ECB, in a speech about Sovereignty in a globalized world at the University of Bologna. 
Globalization "constrains sovereignty by limiting countries' capacity to set laws and standards that reflect their social goals. […] There is a greater need for countries to agree on common standards," he added.
A real-time payment system could be launched soon. EPI should go live with the P2P program and eCommerce by 2023. EPI aims to create a unique payment solution for all kinds of payments in Europe. Whether EPI will be a new standard of payment in Europe, might they announce a new Crypto coin for that? We'll just have to wait and see.