In today's time, gaming has become a social act, and it is now an inseparable part of our lives, and for others, it has become their alternative truth. The physical seclusion that the world has seen since Covid has given this sensation more adoption and validation.
A Gaming Ecosystem
The Sandbox offers players decentralized governance on the scope and possibilities of development for the SAND token. Combining DAO and NFT has enabled the Sandbox to create a decentralized platform to address the woes and challenges of the entire gaming community.
With its consolidative market position having little to no impact on its adaptiveness by game developers and gamers, the growth of the Gaming ecosystem will support the further scaling of the
meta-gaming crypto market
, helping SAND to explore in the long term.
SAND crypto-token
SAND crypto-token showcases a consolidative price trend with much higher volatility than other altcoins. The Sandbox has an emerging resistance near $1.52 and support near $0.719. Failing to maintain its buying strength at 50 DMA has made investors wary of further downside.
The Sandbox has a much stronger price action, buying strength, and transactional volume than altcoins. Currently trading at $1.08, the SAND token holds a market capitalization of $1,388,281,993 despite a huge decline in 2022.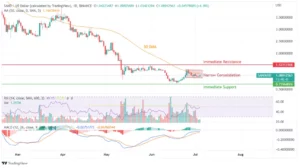 Credit: tradingview.com
RSI curve is trading at the 49 mark, showcasing an overall neutral stance in the short term. Surpassing $1.52 can aid further buying sentiment for this crypto token. On the flip side, SAND would be considered negative after breaching the $1 mark.
The MACD indicator is creating the scenarios for sentimental support to fail as we are headed towards a bearish crossover in the near term. But the buying spike showcases the strength left amongst the metaverse enthusiasts that could help SAND take a new height for the token despite an overall negative sentiment.
The jump from December 2020 to December 2021 seems to be failing as buyers keep away from the Sandbox. The downside for SAND token could be the overall selling sentiment to cash out their existing investments and wait for a better market scenario.