What are solar farms and how do they work? Also, what exactly are maritime solar farms? Here are a few essential points to remember when learning about this innovative technology.
In recent years, the use of alternative energy sources to obtain electrical energy has become popular. The use of fossil resources in the long term is meaningless. The depletion or shortage of these raw materials will cause an exponential increase in prices, so it is necessary to start developing an alternative structure now.
The best example to show how economies are beginning to depend less on oil or natural gas, among others, is the increased use of electric vehicles. This is a trend that continues to increase as the product without an exhaust pipe reduces its weaknesses compared to projects based on internal combustion.
The use of fossil resources to obtain electricity will decrease in the future, even so, the use of less polluting means of transport is of no use if the source of electrical energy comes from means closer to the 19th or 20th century. The use of renewable energy sources will be essential in the future. We know that there are wind farms or tidal waves or the provision of large fields in which solar panels play a leading role.
Now, do you know what marine solar farms are? This new concept could become popular over the next few years as more investment is received from the public and private agents. The key to this type of project is that any space on the surface of the sea can be used to obtain electricity.
Let's see with a very simple example why this type of technology may have greater popularity in the future, to what extent we are facing a differential technology in the future, and, of course, what the characteristics that best define this innovative solution are. Can only positive aspects be drawn or are there other disadvantages that need to be taken into account?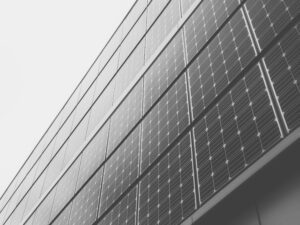 Marine solar farms, a technology yet to be defined
Some territories, due to a small area of land, can hardly install solutions such as those proposed above. Singapore, as you can read on the specialized portal Electrek, perfectly shows why this business model may have a place in the coming years. Now, what provides a structure for these characteristics? The image below reflects the project that is being carried out.
The marine solar farm is characterized by obtaining energy through panels located on the surface. The energy newspaper the total number of solar panels present on the sea surface is 13,312 panels, to which we must add up to a total of 30,000 floats in order to prevent said platforms from sinking under their own weight. In addition, a structure has been installed that is responsible for the electrical transformation and, of course, wiring that joins the conventional electrical wiring.
The installation and assembly of solar panels require the use of floats all this has been created in just a few months, which shows how a project of these characteristics can be very effective in terms of installation and assembly. Well, is it worth betting on a project with these characteristics? The key lies in obtaining your own energy. Payback occurs after several years, but the carbon footprint is reduced from the start.
So much so that, annually, you can obtain up to 6 million kWh of energy. By way of a simple comparison, one could stop depending on fossil resources to charge up to 60,000 units of the Tesla Model S in its version with the highest battery level. It is, therefore, a bet that will have a journey in a greater number of markets.
Not only the aspect of the carbon footprint should be valued
Have you ever wondered what happens in the ecosystems in which these types of structures based on solar panels are installed? The truth is that, certainly, toxic waste is not produced. After all, each of the units has the capabilities to enjoy great resistance to corrosion and other problems to which it is exposed.
Solar energy will be fundamental to understanding sustainability in the coming years. The Business Times
The fundamental problem is entirely related to the fauna and flora present for miles around. This is one of its main weaknesses when it comes to using solar farms on land. It would be necessary to analyze, case by case, what implications there may be in each of the programs that are intended to take place.
Another problem that is related to this type of platform is that the obtaining of electrical energy is not done through the most reliable methodology. This is mainly due to the fact that the currents do not offer the best angle to capture the sun's rays to obtain more energy. Despite this, we are facing a revolutionary solution to consider.