There are several methods to take screenshots on Android TV. If you have a television with Android TV, you should already know most of its functions and utilities. These devices are ideal to enjoy the best series in the company of your family, and you can even use some other tools, such as taking screenshots. That's right, just like you do with your mobile devices, you can also capture the screen of your Android TV, and in this article, we will show you how to do it. You can not lose this!
Use your TV remote
Typically, if you want to take a screenshot on an Android phone or tablet, all you have to do is press the power and volume-down buttons simultaneously. Guess what? The same method also works for some Android TV and TV Box.
If that's the case, on the screen you want to capture, simply hold down the power button and the volume down button on your controller simultaneously. If you see a screenshot animation, it means the screenshot was successful, if not, it's time to try another method.
Use the official app of your Android TV
Typically, most Android TVs and TV Boxes come with their own remote control apps, and these apps usually offer a screen capture option. If you have a Mi TV, for example, you may capture screenshots using the Mi Remote Controller app and save them directly to your phone.
Check if your device has this built-in function
Some TV models running Android TV come with a built-in feature for taking screenshots. To access it, you just have to follow these steps:
Press the Home button on your Android TV remote until you see a new pop-up menu appear.
Once there, locate the native option of screenshots.
Then select this option to take a screenshot.
Select the Save to Photos option to store it locally on your device.
If you want to share it with other apps or devices, click on Save and share to see the available options.
You might alternatively utilize a third-party application.
Unfortunately, not all TV boxes are lucky enough to have their own applications to take screenshots, if this is happening to you, the best solution is to use a third-party application that allows you to perform this action, and our recommendation is CetusPlay. It is one of the most popular applications, which allows you to control your Android TV or TV Box through your smartphone, but you can also take screenshots with this app.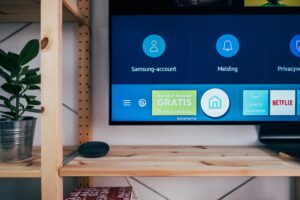 You need to install the application on your TV and you're mobile, and then open it on the device with Android TV to grant it the necessary permissions. Now, simply start the app on your smartphone, connect it to your TV and you can use it to control the TV, as long as both devices are connected to the same WiFi network.
Try assigning new functions to the buttons on your remote
Did you know that you can reassign the functions of the buttons on your Android mobile to start an application, a shortcut, or perform any other action? Well, that is possible with the help of the Button Mapper application, and fortunately, this app is available in the Google Play Store for Android TV.
Now you must ask yourself what that has to do with her, and the truth is that the answer will surprise you. You can reassign any of the buttons on your remote to take a screenshot of your TV's interface. For that, you will only have to download the aforementioned application and assign the screen capture function to a button of your choice, and that's it.
As we mentioned before, all these methods will not work on all Android TV devices, so you have to try or try several of them until you find the right one. And if you liked this article, you may be interested in knowing how to take screenshots on your Chromebook.