Viruses and malware on Mac have been around for a long time, yet many were unaware. If you are one of these people and you think that your Mac may be infected, you should follow this series of tips to be able to solve it.
We live in a world in which we are constantly exposed to our information on the internet and on all our smart devices, in which many of us who are lovers of Apple technology choose to form a complete collection of devices of the brand for our lives daily. One of the arguments that lead us to choose this brand over others is that their devices have antivirus software that protects them from attacks in the internet world. But is this true?
To begin with, it is not that we want to destroy that beautiful theory that we had for so long, or that we seek to deny the brand, on the contrary, we want to share with you that the only way to be safe on the internet is to be offline. For this reason, if you want to protect your information and your Mac devices, especially important files or professional information that you keep, it is necessary to eliminate viruses and malware from the Mac.
How can you remove viruses and malware from your Mac?
The best way to avoid viruses and malware on your Mac is to be careful with the links you click on the internet and to download signed applications that you know for sure that there is no malware in their code.
In this way, you will ensure that you do not ask yourself again if you have viruses or malware on your Mac, but if it is too late and this has already happened, then you should follow a series of tips to be able to remove viruses and malware from the Mac.
As a first tip, if you notice that lately something is wrong and you have suspicions about an application, simply delete them and investigate them on the internet, there are also some programs to be able to eliminate several apps at the same time and with a single click.
Although Apple takes extreme precautions and performs several tests before admitting programs and applications, it could happen that one that we download is not 100% compatible and has viruses and malware. If you have downloaded the program or the app from the internet, then it has all probability that there is malware hidden under its code.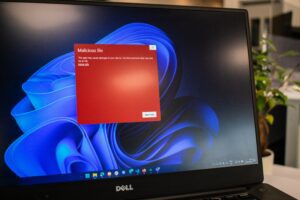 You should also make sure you have installed the latest iOS update available for your Mac. With each new update, Apple fixes bugs and security breaches, as well as incorporates new functions.
It may be that a specific malware or error in the previous update was not yet discovered, in the new one it is already blocked and can help you protect your device more. To check that you have the latest version installed, go to Settings > General > Software update and check that there is nothing new.
Install the latest iOS update to remove viruses on Mac
Delete data and browsing history, perhaps what is giving you problems is browsing in Safari, which may redirect you to unauthorized pages or sites. So the first thing you need to do is clear your Mac's history and cache.
It is also very convenient to restart your device, this is the classic advice for all electronic and computer failures, sometimes nothing changes, but for many others, the problem disappears, of course, if it is not a virus or chaotic malware.
If all these measures do not make your Mac work as before, it is still slow, you see advertisements everywhere, or even find software or applications that you never installed, it is time to use a tool that helps you remove viruses and malware from your Mac, or OK, visit an Apple store or technical service.