Do you want to travel the world, learn about new cultures and ways of living, and profit from an incredible, once-in-a-lifetime experience, but you're not sure how to finance your journey? Fortunately, there are many opportunities to earn money while on the road.
Here are 8 of the best ways you can make money while traveling
1 – Remote employee
Due to the Covid-19 pandemic, many companies around the world have had to adopt more flexible work schedules, promoting remote work in many cases.
Becoming (or remaining) a remote employee or a digital nomad, is a great way to work outside of a traditional office environment and travel wherever you want, all while still earning your salary. 
2 – Affiliate Marketer
Affiliate marketing is an advertising approach in which a company pays other people to promote and sell its products and services, usually online.
The commission you receive each time someone buys the goods or services you advertise depends entirely on the model the company has adopted and your expertise in promoting what you're selling. Still, if you're a freelancer, it can be a great way to earn money online while traveling. 
3 – Trader
Many people like to trade to make their savings grow and to become financially independent.  Investing and trading financial markets or Cryptocurrencies such as Bitcoin, Ethereum, Litecoin, and others can be done easily online these days through online Crypto exchanges such as Coinbase, Kraken, Binance, or Crypto.com. 
Also trading NFTs could be a nice investment strategy since NTFs had become very popular in the past year. 
You only have to buy an ad robust laptop and travel to countries with a reliable Internet connection to be able to earn money while on the road. 
4 – Teacher
If you're a teacher, know that there are many opportunities for teaching abroad. A variety of international teaching jobs and programs exist, so you can live in other countries and learn about their cultures, all while receiving your salary.
Usually, people teach their own languages abroad, but you can also target international schools if you're teaching something different. 
5 –
Blogger
Owning a successful blog can be another way to make money while traveling, especially if it's a travel blog and you monetize your travels.
Getting paid to write a review, displaying Google AdSense, selling ads directly, taking advantage of sponsored posts, creating a paid restricted area on your website, setting up a business directory, and selling goods/services are some of the many ways you can monetize your blog content. 
6 – Photographer
Travel photography is another way to fund your travels. While some might believe that photographers might not be that relevant in the age of digital media and the Internet, there are many different opportunities to make money online, such as teaching photography, writing about it, and selling photos online.
The only thing you have to think about when combining travel and photography is how to go about building your brand and expanding your money-making horizons – making money with travel photography isn't just about selling your photos.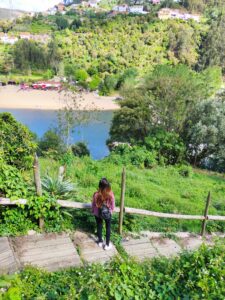 7 –
Au pair
If you love children and you'd like to live in a foreign country and experience another culture by living with a host family, becoming an au pair is the perfect option.
Families around the world are always looking for caring foreigners to take care of their children. Becoming an au pair is a great way to take part in cultural exchange and make a little money while living abroad.  
8 – Working Holiday Visa
While Australia attracts many people around the world with its popular working holiday visa each year, it isn't the only country that offers work holiday programs.
Argentina, Brazil, Canada, Chile, Colombia, France, Hong Kong, Japan, Mexico, New Zealand, Peru, Russia, South Korea, Taiwan, and Uruguay are among the most popular destinations for those looking for a long-stay visa to visit other countries.