If you hate that sound every time someone is on the other side of the door, I show you a selection of doorbells.  I will include myself in that group, having a certain aversion to loud sounds, especially if they come unexpectedly. A clear example is the classic doorbells that are installed in our homes and that, usually, are simple metallic vibrations that could drive you crazy if they are repeated continuously, not to mention the annoyance that they are for our pets. If you want to ditch that sound and make it to the 21st century, let me give you some advice.
Govee wireless doorbell
One of the first things that I would like to highlight from this selection is that I am going to show you doorbells that can be placed in substitution for the main one and that, in addition, do not need any type of cable or expensive installation. In this case, I present a product that has a range, between transmitter and receiver, of 300 meters, a perfect figure for an average home. You can choose between 36 different melodies, set a volume up to a maximum of 100dB and you can install the item outdoors, thanks to its IP66 certification. On the article page you will see a short video, which explains how it works, although if you are a regular user of new technologies, this will be a piece of cake.
Omeril wireless doorbell
We continue with another wireless product, in this case with an operation that does not need any type of battery or battery. This is because each time a person presses the external switch, it generates its own electrical charge. Its performance range goes up to 150 meters, it is certified IP55, which can operate outside with a temperature variation between -20 ° C and 60 ° C. You will have the option to select up to 52 different melodies, with five volume levels, with a maximum of 110dB. It has low energy consumption.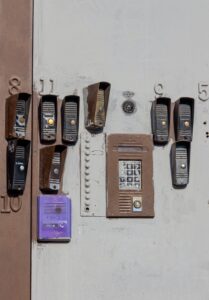 Tecknet wireless doorbell
We change the color of the device, in this case, black in case your tastes are reflected in it, but we continue with a product that will allow you to have a completely new and functional doorbell in a matter of minutes, without strange and complicated installations. You will have up to 300 meters of connection between transmitter and receiver, 52 melodies as a buzzer, four-volume levels with a maximum of 85dB, and LED lighting to display the announcements in a way that the hearing impaired can understand. Its certification is IP44, which although it means that they can be used outdoors, you should be careful with direct rain. You can fix the switch to the wall with the included double-sided tape or use screws for added security.
Charlemagne wireless doorbell
Lastly, which does not mean that you cannot continue exploring more available options, we present you with a doorbell that, in particular, I think is one of the most beautiful that you can buy online. Like its rivals in this series of recommendations, we have a device that has a long range, in this case, it reaches 280 meters, and has IP44 certification, so you can place this product outside, although you will have to watch that they do not get wet directly. It has a selection of 36 melodies and its volume can be adjusted between 25dB and 85dB.