As the world-renowned Norwegian military specialist Kjell GrandHagen once said, "We don't need to play a better game against cyber-criminals; we need to play a different game." Truer words could not have been spoken, especially within the context of today's digital tech landscape where there is a monumentally vast difference between Web2 and Web3 systems.
To elaborate on this point, it should be noted that traditional Web2 platforms come replete with a host of inefficiencies and major bottlenecks. However, of the issues affecting these systems, the one that stands out the most is the problem of a SPOF or single point of failure. In its most basic sense, a SPOF is a non-redundant part of a network/system which, if compromised, can cause the entire system to fail.
Since Web2 platforms are highly centralized, their working depends on a single company or server, however, when it comes to Web3 systems, they are entirely decentralized in their mode of operation. To this point, all transactions taking place within a Web3 network are facilitated in a peer-to-peer fashion, with there being no central authority overseeing the transfers.
Web2 breaches have been growing in recent years
To highlight the security issues associated with most Web2 systems, it is worth looking at some prominent data breaches that have occurred due to the issue of a single point of failure. For example, in 2017, Equifax, one of the largest crest reporting agencies in the United States, ended up exposing the personal data — including names, addresses, social security numbers, etc — of more than 145.5 million of its clients.
Similarly, back in 2019, hackers were able to siphon off the details of 885 million customers associated with insurance and settlement services provider First American Financial Corp. During the exact same time period, Facebook too had 540 million of its user records exposed due to third party miscreants compromising its Amazon-based centralized cloud server platform. Lastly, a few years ago, hospitality giant Marriott International was faced with a data breach that saw confidential data related to roughly 500 million guests being leaked online.
Web3 projects like Naoris are changing the game security wise
To help mitigate the aforementioned security issues, projects like Naoris Protocol are leading the roost. For example, the protocol seeks to help revolutionize how security within today's tech ecosystem is approached, considered, and implemented, thereby allowing for safer information-sharing environments. Not only that, thanks to its high degree of decentralization as well as its use of a tokenized machine economy, Naoris is able to completely get rid of any single point of failure while also establishing a trusted communication layer among all of its associated devices in real-time.
On a technical front, Naoris utilizes a novel consensus mechanism called the Distributed Proof of Security (dPoSec) that is capable of processing 50k – 1M transactions per second while making use of a sharding-like architecture referred to as Verge Clusters. Verge Clusters are extremely security oriented in their design and make use of a compliance logic that ensures the integrity of every network participant making use of the protocol.
To this point, Naoris is extremely unique such that it acts as a complimentary security layer that does not interfere with the functioning of any traditional/centralized cyber tools it may be associated with. In fact, the protocol provides its users with streamlined access to a global threat mitigation environment that helps benefit all of the involved parties. Not only that, users are given real-time threat information and intelligence from the daemon present on their devices and from across other participating networks.
In fact, when more network participants continue to join the Naoris network, they are rewarded for their security-centric efforts. To this point, users that join the protocol stand to reap many advantages from network validations that are distributed by a global decentralized threat mitigation supercomputer which is designed to be in a constant state of acquiring new data so as to correlate threats and identify malicious behavior.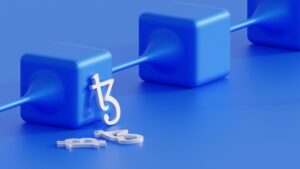 Looking ahead
There is substantial evidence to suggest that the existing Web2 architecture that is in place currently is not equipped to deal with the level of cyber threats currently facing the world today. In this regard, statistical data shows that the number of devices connected to the internet as of 2022 stands at approx. 50B with the number of data hacks and compromises peaking at 30B recently as well. Therefore, moving ahead, it stands to reason that more and more people will continue to gravitate towards the use of Web3 technologies such as Naoris since they allow for a greater level of decentralization, transparency, security, and individual privacy.