Gucci US Stores Are Ready to Accept Crypto Payments
From the end of May, the luxurious Italian brand Gucci, owned by France's Kering, will be accepting payments in cryptocurrencies in 5 of its North America stores.
The first stores to apply the use of crypto assets are Crystals in Las Vegas, Phipps Plaza in Atlanta, Miami Design District shop, Rodeo Drive in Los Angeles, and Wooster Street in New York. Customers will be able to purchase Gucci goods and pay with 12 digital currencies.
12 Digital assets to pay with
Gucci is about to accept Bitcoin, Bitcoin Cash, Ethereum, Shiba Inu, Dogecoin, Wrapped Bitcoin, Litecoin, and other 5 stablecoins like USDT. According to Gucci, the payments would be converted to fiat money and might also hold the Bitcoin received as payment.
"Gucci is always looking to embrace new technologies when they can provide an enhanced experience for our customers"  said Marco Bizzarri, Gucci's president and CEO, in a statement to Vogues.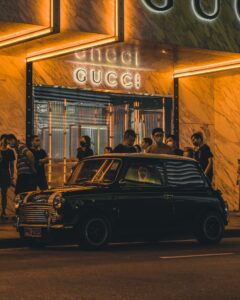 How will it work?
The online payments in-store will be made via a link that would be sent to the customers' email addresses.
The link that the customer will receive would have a QR code in it, then the customer will have to execute the payment from his crypto wallet.
The feature is still pending, while Gucci's employees are practicing the new method of payment.
Gucci-themed NFTs
A few months ago, the big brand came up with 2 NFT collections this year – SuperGucci and Gucci Grail.
Gucci is expanding into Web 3 space when purchasing virtual land on the blockchain game The Sandbox.
A huge jump for crypto
This incredible announcement is another great step forward in accepting cryptocurrencies as means of payment in popular organizations and famous brands.
Other popular businesses that are already accepting payments with crypto assets are some of the world's biggest brands such as Starbucks, AT&T, and Microsoft.