Today (Thursday) morning we've been hearing about the dramatic news of the invasion of Russian forces into Ukraine. During the night, Russia invades Ukraine from a few fronts, the crypto market plunges 10% sending Bitcoin price to $34,700 and Ethereum to $2,300.
Russian Invasion Of Ukraine 2022
After a long tension between the two countries, Vladimir Putin the Russian President, declared this invasion as –"A special military operation". Putin wishes to clean Ukraine of its corruption and Nazi ideology, He declared the following:
"What I think is important to emphasize further. To achieve their own goals, the leading NATO countries support extreme nationalists and neo-Nazis in Ukraine in everything, who, in turn, will never forgive the Crimeans and Sevastopol residents for their free choice – reunification with Russia".
The Kremlin's goal is to bring justice to the civilians of Ukraine by the Russian invasion.
The situation in Ukraine is bad at the moment many grocery stores have been left empty and trains had stopped operating. People are trying to flee the country, crossing the border with Slovakia. Civilians without transportation solutions are fleeing Kyiv on foot.
The Invasion Effect on Crypto Markets
The Bitcoin rate (BTC) lost 12% after getting to $39,000 yesterday. It's currently trading at $35,000. Ethereum exchange rate (ETH) did not remain indifferent either, losing 15% from the $2,750 level at which it traded yesterday to $2,355 as of this writing. Other currencies are facing losses today.
Since yesterday, the total crypto market cap drops to $1.6 trillion. Earlier this month, Russia announced to consider regulating Crypto in the country but with the Ukraine invasion and the current situation we'll just have to wait and see what's going to happen next.
Sharp declines in Stock markets
Along with the Crypto crashes in the united states and Europe, the Russian stock market is facing dramatic falls. The ruble trading market was temporarily halted considering the collapse of the Russian ruble. index MOEX faced losses of almost %50
Holy **** the Russian stock market is down almost 50%, just today. pic.twitter.com/i6PN5CZSSK

— OSINTtechnical (@Osinttechnical) February 24, 2022
Oil and Precious metals are on the rise
Russia is one of the largest palladium, platinum, and gold producer in the world. Oil prices rose to a high level since 2014 while an oil barrel stands at $100 and Brent crude oil is at $103 – a rise of nearly 7%. Gold, Palladium, Silver, and Platinum are safe havens as always.
The gold price went up by %3, hits 17 month high, and stands at $1899 per ounce. Palladium rose by %7 and stands at $2358 per ounce. Silver got to $25.5 per ounce and Platinum rose to $1121.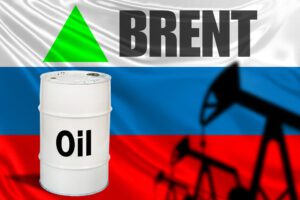 Overall, and as mentioned above, this is probably a necessary invasion since this Russian operation targets to clear the crimes against Ukrainian civilians, while the goal is bringing justice to the people.