When it comes to our musical needs on the go, these days we are spoilt for choice. Anyone who grew up in the '90s or earlier will remember the planning that was needed when leaving the house if you wanted to continue listening to your favourite tracks while out and about. If you didn't have that CD in your bag, then you would have to make do with humming the tune until you returned home to your music collection. These days, you are never more than a few clicks away from listening to any track you desire.
Streaming services have become the norm when it comes to satisfying our musical needs, but what about podcast apps for those who prefer their audible entertainment in the format of 'spoken word? Do audiophiles have options for high-fidelity streaming? What about those of us who have smaller data caps? Whatever your niche, and whatever your digital dilemma, in the modern, ever-connected world, there is an answer. 
Data Caps? Just Plan Ahead
For those with smaller data caps, or perhaps travelling in a country where they don't have access to their mobile networks, streaming services can be a problem. Depending on your network, you can either burn through your available data extremely quickly (leaving you precious little for anything else) or even worse, it could end up costing you a fortune in data roaming charges. 
To prevent this from happening, most streaming services such as Apple Music, Spotify, and Google Play Music offer downloads to those who pay for their services. Before leaving home, you can download your favourite playlist, and listen to your heart's content while being away from Wi-Fi.
But perhaps you prefer your entertainment in the shape of Youtube discussion shows? Streaming video can really bite into your data allowance, and if you are only really interested in the audio anyway, it can be an extremely uneconomical way to consume your audio entertainment. 
Step forward services such as MP3 Hub. There are websites that allow you to convert Youtube videos to MP3 files and download them to your device, perfect for those of us who want to listen to our favourite YouTubers while on the go, but don't really need to be watching our screens while travelling. 
Nothing less Than The Best
While most of us are happy with the standard streaming quality that is provided by the likes of Spotify, there are a few consumers out there that simply must have the best sound quality available. If you happen to be one of these people, Tidal may be a service to look into. 
With higher fidelity sound quality than its rivals, Tidal can scratch the itch that audiophiles around the globe have been complaining about for years. With higher quality streaming to mobile devices, and even some hi-res master tracks available to listen to on the desktop app, Tidal is the audio connoisseur's music choice.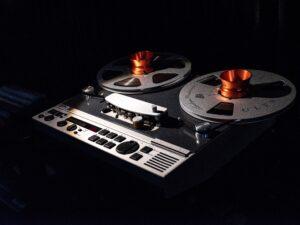 The Rise of The Podcast
With the popularity of podcasting going through the roof in recent years, having access to our favourite shows has become as important to many commuters as having access to music. There is now a huge range of podcasting apps to suit your needs. Apple users have access to their own proprietary podcast app that is unique to the Apple platform, but in all honesty, there are better options available. 
The likes of Pocket Casts (for both Android and IOS) are far more feature rich than the standard IOS podcast player, and it allows for syncing between devices. So you can start your podcast off at home on your iPad, then continue where you left off on your Android phone while rushing to work. 
If Pocket Casts isn't your thing, then perhaps DoggCatcher (Android), Downcast (IOS), or Sticher (Android and IOS) may suit you better. For those who pay for a Spotify account, it is also worth noting that podcasts are now available on that platform too. 
With such a plethora of choices out there for our entertainment needs, we have never had it so good when it comes to consuming entertainment on the go. Whether you are an audio fidelity snob with data to burn or a YouTube addict with no data allowance at all, there is no reason you can't remain entertained when travelling or commuting. Viva la digital revolution!