If you already know how to prepare the recipe in an artisan way, let us show you the products to finish it like authentic Italian. Imagine that it has been a long day, one of those in which the workday never ends, or a week in which you do not see the end. Night comes, and you are home.
You enter the kitchen and the spirit of a pro-Italian invades you and you begin to prepare one of those pizza doughs that you like to make so much, with fresh ingredients, because you know that you need a flagship dinner to give your body joy. If you leave us a few minutes of your time, we will show you a selection of products that will make cooking that pizza the final touch to enjoy the best version of the Transalpine recipe.
Bestron Electric Grill Oven
We begin this selection of ideal products for cooking the best pizzas with an article that bets on the most Italian red to stand out on your kitchen counter. As for its best specifications, we are talking about a small appliance with which you can cook various foods, although its main function is to act as a pizza oven.
The intensity of the temperature can be regulated, up to 180ºC, its power is 1,800W and it has a non-slip base. At the top, a grill will work, too, to be used as a makeshift barbecue, so the versatility of this article is beyond doubt.
Tristar PZ-2881
If you are looking for a more discreet product in its external appearance, here we find a small oven in black, this option will be ideal for you. With a diameter of 30 centimeters, do not deceive us and say that you usually eat larger pizzas, this product allows you to adjust the temperature of the interior thanks to its built-in thermostat, in addition to the inclusion of a non-stick surface, to facilitate the baking of pizza and its subsequent cleaning.
A couple of lights at the top will tell you when the oven is ready to go and when it is at the perfect temperature to start cooking. By the way, its power is 1,450W.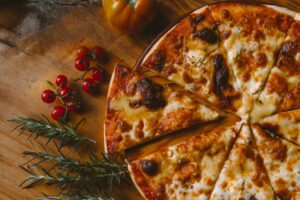 Cecotec Bake & Toast tabletop pizza stone oven
Obviously, if you have already taken a look at the previous products, you may have been surprised by the use of the term oven to describe them. On this occasion, we do have an oven in the way we usually know them and that, in addition, has a circular stone tray, which will allow us to turn the small appliance into an oven of Italian delicacies. This product has a high-resistance double glass door, temperature regulation of up to 230ºC, and a timer that can be set for up to 60 minutes. The item comes equipped with a baking tray, a grill, pliers to remove accessories, a pizza stone, and a tray to collect the crumbs.
Sirge OSOLEMIO pizza oven
It is true that we usually understand, at least in our country, the term pizza oven as a much more voluminous object, impossible to adapt to the characteristics of our kitchens. We want to present you, on this occasion, a reduced version of a pizza oven, whose great advantages for the chef or cook on duty is the use of high efficiency and quality black refractory stone, the temperature set up to 400ºC, a power 1,200W, adjustable timer up to 15 minutes, more than enough time to get a luxury pizza and the inclusion of two wooden pizza peels and a circular cutter.
Electric Pizza Oven IKOHS
To finalize this selection of products focused on one of the most popular dishes around the world, we want to present you with an oven, with a design as peculiar as it is interesting, which will allow the user to control the power of pizza at home.
This product has a non-stick refractory stone base of 31 centimeters in diameter, a small double glass window to observe and control the degree of cooking, an adjustable temperature of up to 350ºC, with five power levels, which will allow the cook to prepare an impressive pizza around the five or ten minutes, depending on your taste and the type of dough you are using.