Whether you have a great idea you want to promote or a new business you need to encourage.
Perhaps you've been thinking about starting your own blog, but you're not sure where to start. 
We'll try to help you with that.
1. Coming Up with an Idea for Your Blog
When brainstorming ideas for your blog think about what is important to you. You can't write about something if it is a boring or mundane topic. If you don't care about it, how will you get your audience to care?
Think of something you enjoy learning about yourself and then dive head-first into researching it in every way you can to broaden your reach.
Some of the best places to get ideas for your blog are listed below:
Hobbies or avocations

Clubs or organizations

Creative interests

Career-based topics

Relationships

Your business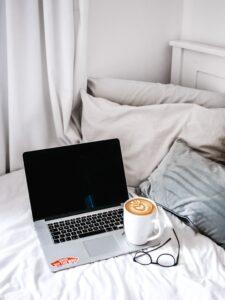 All of these areas are good topics to focus on, provided you are dedicated to spending time on the research and analysis of various aspects of the category you choose.
TIP: Don't try to be too broad in your scope. Make the focus topic narrow but the knowledge broad. In other words, narrow your topic so that you target your audience while including tons of great information from different aspects of that topic.
2. Register a domain name
You will need to register a domain name for your site. Having a domain means you will have a website, and ultimately an online presence. So, the first step towards building your website is to find an appropriate name for your website and a good domain provider. 
The step-by-step process of how you can register the best one for your business goes like this: 
You can register your web address easily from any of the top domain registrars. However, make sure that the service provider you choose is authorized by the Internet Corporation for Assigned Names and Numbers (ICANN). There are several providers in the market to choose from. Some of the prominent names in the market are: 
Domain.com 

GoDaddy

Bluehost 

Hover 

Google Domains 

NameSilo 

Namecheap 
First, visit your preferred registrar's website and enter the domain name you want. 

If your chosen name is available, the registrar will provide you with a list of your domain name with different extensions (.com, .org., .us, .au, .biz, etc.). Choose your name with the preferred extension and add it to the cart. 

At the time of checkout, you will be asked for what period you want to register your domain name for. The minimum time is 1 year, and the maximum is 10 years. You are advised to go with 1-year registration. 

Finally, pay for the 1-year registration, and that's it, you have registered your URL. Now, all you need to do is host the website with the registered domain address. 
3. Creating unique Content for your blog
One of the most important things to have on a blog is unique, updated content. Google bots will scan your website regularly and you would want to make sure your site's content is interesting and always up to date.
Tip: You will want to make sure that your homepage will have a header with categories and a footer with information and other links such as a disclaimer or contact us page and even more links to inner pages on your blog.
4. Going Live with your Web Hosting and WordPress site
TIP: Use a simple but sophisticated WordPress dedicated hosting provider to power your site. This way you will have the ability to scale your site as your traffic and server needs grow, but to also have a reliable support team that understands what it takes to run a WordPress-powered site. Generic shared hosting plans are often fine for small starter sites, but once you start getting some real traffic or making money with your site, you won't want to be on one of these lower-end hosting plans.
5. Claiming Your Blog or Username Across All Social Platforms
Remembering what we've said about branding, it is critical to get a name that your audience will remember and to promote it regularly across platforms. When you make your brand name known with everything you do, it will catch on faster than just having a blog exclusively.
TIP: When you create a social media post, always use your brand or domain name. If you switch between your real name and your brand name too often, people will be confused in the searches (unless your brand name is the same as your real name).
Good luck with your new blog!