Implementing Microsoft Dynamics 365 can transform your company into a highly efficient business entity. Yet, even deploying a single tool of the suite can be a tedious process, especially for large organizations. The assistance of an authorized Microsoft partner ensures smooth implementation and effective maintenance of a new system. Get more information about the support you can count on collaborating with XPLUS.
Choosing XPLUS as your Microsoft Dynamics 365 FSCM implementation partner
While the process of Microsoft Dynamics 365 FSCM implementation requires a certain time and financial investment, receiving professional help can make the transition cost-effective.
XPLUS is a trustworthy Microsoft partner specializing specifically in the development and implementation of its ERP system. XPLUS has already been on the market for twenty years and during this time, it has helped hundreds of companies to apply the innovative and efficient solutions of the Microsoft systems.
Digital transformation of a large organization can be especially pricey, so reaching out to a market expert such as XPLUS is a particularly good decision. This Microsoft Dynamics 365 implementation partner has a large portfolio of projects completed within large companies operating on the global market with complex networks of numerous dispersed departments.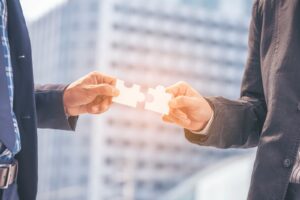 The XPLUS approach to the Microsoft Dynamics 365 implementation
XPLUS utilizes the Conference Room Pilot (CRP) approach suggested for the ERP implementation. With it, XPLUS will help you to avoid potential loopholes in the system, which can be rather expensive for fixing once an ERP is fully deployed.
There is another crucial advantage of the methodology used by XPLUS for Microsoft Dynamics 365 implementation, which is providing end-users with the necessary experience of working with the ERP before it goes live. This is essential for preparing staff for the significant changes coming with the digital transformation of a company.
Additionally, XPLUS is very precise when it comes to completing projects within a predefined budget. Choosing this Microsoft Dynamics 365 implementation partner will ensure the costs of the transformation will not reach beyond your estimation. The schedule of the process is also highly respected by XPLUS.
XPLUS will help you to minimize the costs of implementation and support you with its expertise, proven techniques, and tools, while you will have full transparency of the process. All of the resources and apps offered by XPLUS are upgraded to the latest releases of Microsoft Dynamics 365.
Upgrading Microsoft Dynamics 365 FSCM with XPLUS
You can also rely on XPLUS if you would like to upgrade Microsoft Dynamics AX to the latest version of Microsoft Dynamics 365 FSCM, which is a sensible decision for any company searching for ways to optimize its performance. XPLUS will help your business to go through a seamless transition, supported by the automated testing tools of Executive Automats.