Across almost all industries, approximately 90% of all startups fail. Around 10% will fail in the first year.
However, the Asian tech startup scene is going through an undeniable boom. Of course, India and China are both racing ahead with $22 billion and $131 billion respectively in 2022. The role of the Asia Pacific region in the burgeoning tech industry is critical.
Unlike Silicon Valley, where tech companies are concentrated in a small geographical area, innovation in Asia is far more dispersed. Cities across the region are eager to establish themselves as leading centers of innovation, including Penang, Bangkok and Ho Chi Minh City.
While this is all great news for Asian tech entrepreneurs, not all startups can be the next Grab, Bitmain, or Flipkart. Some sources suggest that nine out of ten startups will fail. With so much competition, it's hardly surprising.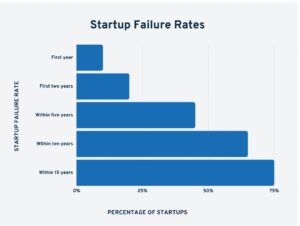 However, these failures provide opportunities for budding entrepreneurs to learn from the mistakes of their predecessors. Here, we present a roundup of a few reasons why tech startups have failed over recent years using real-life examples.
1. Not Serving a True Market Need
This is perhaps the cardinal rule of launching any new business — know your market. Before you establish a legal entity, before you design a fancy logo, before you appoint your COO, above all else, you should know who is going to buy your product or service. Ideally, your research should give you a realistic indication of your sales forecasts too.
Lack of market demand was the scenario facing Singapore-based company KotaGames when it shut its doors in 2015. The company was relying on markets in gaming on feature phones, in countries like Indonesia where smartphones were slow to penetrate. As users across all markets soon adopted smartphones, the company found it didn't have a viable product.
The frenzy of new blockchain startups riding the wave of Bitcoin's 2017 price spike has led to numerous projects with use cases bordering on the nonsensical.
2. Burning Through Cash
Failure to effectively manage cash flow is a sure-fire route to the startup graveyard, as in the case of Bangalore-based startup Dazo. It was an online food delivery service that started life as an "online kitchen" but later became an aggregation service for restaurants so customers could order from a single user interface.
After receiving seed funding from some high-profile investors including Google and Amazon, the company closed down with reports suggesting that the company had spent all its initial capital investment on customer acquisition but without having anything to differentiate the product from high-profile competitors such as Zomato.
While some companies are just misguided in their spending decisions, others seem to be downright frivolous. Beepi was a peer-to-peer marketplace for used car parts based in California. The company went bust in 2015 after burning through $7 million per month for a headcount of 300 people. TechCrunch reported that the company had even blown $10,000 on a single sofa for the executive's conference room.
3. Excessive Risk-Taking
Burning through venture capital is one thing, but burning through debt is a risky business indeed, as the founders of Abratable/Abreresto found out in 2015. The company launched as Abratable in Singapore, a restaurant booking service. It later expanded to Indonesia as Abraresto, an online restaurant rating and loyalty platform.
By 2015, the company had closed down citing cash flow problems as the reason. However, it soon emerged that the company had in fact sourced two-thirds of its $1.5 million funding using borrowed funds. Although it had tried to source other avenues of funding, investors were understandably reluctant to bail the company out.
4. Difficulties in Bringing a Product to Market
An entrepreneur can have one of the very best ideas in the world, but if they can't successfully bring a working product to the market, then the idea is effectively worthless. The founders of Lumos realized this when they tried to develop an Internet of Things (IoT) device for connecting items in smart homes.
In a remarkably frank blog post documenting the demise of his company, founder Yash Kotak detailed how the company struggled with manufacturing issues as well as the challenges of building a "one-size-fits-all" product for connecting to multiple IoT devices.
5. Inability to Scale to Demand
It's well and good having a product that meets market needs, but the product must also be scalable enough to meet the extent of demand or customers will go elsewhere. That's what happened with the online recruitment platform Talentpad. The company offered a virtual talent fair where employers would compete for available candidates. It was a promising idea, attracting seed funding from Helion Ventures.
However, employer enthusiasm for Talentpad quickly overtook the team's ability to scale to demand. The company closed down a year after it started, with one of the founders: "We failed to figure out a scalable business for a big enough market."
6. Failure to Inspire Loyal Customers
Studies have shown that increasing customer loyalty by just 5% can maximize profits by up to 95%. Therefore, any company without loyal customers has an uphill battle to stay in business. Flash-sales platform Ensogo discovered this when it failed to reach its target of 500 million customers across southeast Asia.
The company closed its regional operations in 2016, with one source stating that a lack of customer loyalty had been a critical factor in its downfall considering the low margins involved in flash sales.
This list may not be completely exhaustive in describing all the reasons why tech startups could fail. However, it provides many scenarios illustrating some of the pivots on which startup companies rise and fall.
In today's ultra-competitive startup environment, it's more important than ever to ensure that your entrepreneurial endeavors avoid these pitfalls at all costs if your company is going to thrive.