A washing machine is a must-have device, not just for saving time but also for washing big amounts of garments with the least amount of water feasible. With these models, you will always have your clothes clean.
When choosing a new washing machine, all are doubts. There are so many models and some are so different from each other that it is sometimes difficult to know which one to buy. We usually look at the carrying capacity and little else. However, it never hurts to take a look at the level of energy efficiency, the ease of use, and the type of motor.
If you are looking for a washing machine and you don't know where to start you just have to keep reading. Here are some of the best washers you can find. There is something for all budgets. In addition, even the cheapest offers great performance when compared to other more expensive models.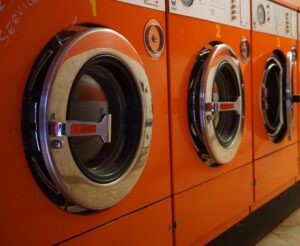 Hisense WFPV8012EM
Hisense is a well-known brand that manufactures both televisions and washing machines. On this occasion, we will see the Hisense WFPV8012EM model. It is a front-loading washing machine with a steam program that has a capacity of 8 kg. The drum features intelligent sway control to prevent vibrations. It is worth mentioning that it has 15 automatic programs and a 15-minute quick wash function.
Candy Smart Pro CSO
Candy's Smart Pro CSO 14105TE model will not leave you indifferent due to its main technical characteristics. For starters, it has a load capacity of 10 kg. At the connectivity level, it comes with Bluetooth and Wi-Fi to download additional programs and carry out self-maintenance. The 9 quick wash programs make things much easier when programming the washing machine and, in addition, the steam function reduces wrinkles and removes the most difficult stains.
Beko WTA8612XSWR
This Beko brand washing machine stands out for being very intuitive. From the front panel, you can choose the type of wash and make other adjustments so that the clothes come out pristine. For the rest, say that it has a load capacity of 8 kg and its engine is capable of turning up to 1200 rpm.
AEG L7FEE941
The AEG 7000 Series does not disappoint by carrying the latest technology. The L7FEE941 model has an Inverter motor, LCD control panel, and steam function. The door is size XL, so you will not have any problem when you have to put a large duvet in. By the way, the Protex-enabled drum has been intended to protect and gently wash garments.
Haier HW100-B14979
This model may be of interest to you if you require a washing machine with a large load capacity. We are talking about 10 kg and to top it off the drum is 525 mm. Say it has Smart Dual Splay, an automatic cleaning system that activates when the wash is finished. In addition, the Refresh function not only eliminates bad odors, but also dust and allergens. The latter is something to keep in mind if you have an allergy.
SAMSUNG WW90T554DTT / S3
We could say that this SAMSUNG model is high-end based on its characteristics. It has everything you can imagine. From an artificial intelligence that analyzes your habits to later suggest the best washing program, to Wi-Fi with Smart Things function to control the washing machine, even when you are away from home. The drum has a load capacity of 9 kg and the bucket has a system called Stay Clean that prevents detergent residues.