Elon Musk Planning to Buy for $44 billion
The multi-billionaire bought the social media platform for a mere $44 billion on April 25th, 2022. This purchase has had a direct effect on the Bitcoin currency and multiple cryptocurrencies. Time to delve into this a little more and see what the effects have been and whether it is wise for this somewhat sensitive multi-billionaire to be in control of Twitter? Well, he is joking about it on his Twitter profile…
Next I'm buying Coca-Cola to put the cocaine back in

— Elon Musk (@elonmusk) April 28, 2022
The wave in cryptocurrency
Unique to the cryptocurrency and financial landscape, we see big swings when something big happens in the financial sector. BTC USD – or Bitcoin – saw its value rise above $40,000 after Elon made the announcement. All in all, altcoins have risen anyway and this sale has given a boost to the crypto landscape, among other things.
The most notable cryptocurrency Dogecoin stole the show with a 33% increase following the release of this news. Not unimportantly, Elon is very involved in this crypto-coin and makes no secret of the fact that he makes large investors involved in the Dogecoin.
Let's make Twitter maximum fun!

— Elon Musk (@elonmusk) April 28, 2022
While the crypto world remains very uncertain as large swings can be seen, it is curious to note that it is possible for one major player like Elon Musk to change this. This bodes interesting things for the future, as we are used to Elon for quite unpredictable twists and turns. Elon also says he has no plans to sell his crypto, which could indicate a long-term investment in the new currency. Now that he has made it clear that he has invested in Dogecoin and Bitcoin, this may cause major differences in the altcoins.
As Musk also pointed out in a tweet posted around this time, he believes that the smaller, weaker altcoins will eventually disappear and the stronger ones will survive. It is not entirely unclear what Musk has set his sights on and we, therefore, expect that the prices for these cryptocurrencies can only continue to rise. All in all, it promises to be an interesting landscape, especially with Mr. Musk as a major investor.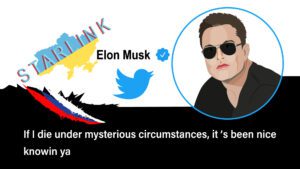 Statement from Musk
Musk's statement about buying Twitter primarily referred to freedom of speech. And establishing a well-functioning democracy of Twitter and, above all, maintaining it is his greatest ambition. He wants to improve Twitter and also add new functions and open up the algorithms, all to create more trust in humanity itself. All in all a nice statement, hopefully, he will live up to it.
The future with Elon
It's going to be a special time with Elon at the wheel of Twitter. Not only has Elon proven in the past that he can create wonderful things for humanity, but he is also known for his sometimes fiery statements and actions. We just love the guy.