Pfizer did not claim that a clinical trial for its COVID-19 vaccine was testing whether the vaccine prevented transmission of the coronavirus to other people. The aim of the drug trial was to study whether the vaccine was safe and if it contained the disease from SARS-CoV-2.
The Alleged Revelation About The Pfizer Vaccine Trial is Nothing New
Details of Pfizer's clinical trial for its COVID-19 vaccine have been available online since November 2020.
When the U.S. Food and Drug Administration announced in December 2020 it's emergency use authorization for the Pfizer vaccine, the agency said there was no data available on whether the shot prevented transmission from person to person.
A Dutch politician posed a question to a Pfizer representative during a European Parliament hearing on October 10, eliciting an answer that some social media users framed as a shockingly new revelation.
But the answer was no revelation at all, according to Pfizer and experts.
The post shared a video clip of an exchange between Rob Roos, a conservative member of the European Parliament from the Netherlands, and Janine Small, president of international developed markets at the pharmaceutical giant Pfizer. The exchange soon spread widely on social media and on conservative news sites, where it was framed as a bombshell admission by Pfizer.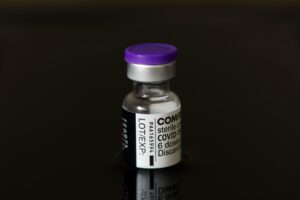 Was it Tested?
"Was the Pfizer COVID vaccine tested on stopping the transmission of the virus before it entered the market?" Roos asked. After two other Parliament members asked questions, Small responded to Roos' query.
"Regarding the question around, did we know about stopping immunization before it entered the market … no," said Small, presumably meaning to say "transmission" and not "immunization." "We had to really move at the speed of science to really understand what is taking place in the market."
The Instagram post was flagged as part of Facebook's efforts to combat false news and misinformation on its News Feed. (Read more about our partnership with Meta, which owns Facebook and Instagram.)
"This is scandalous," Roos later said in a video he shared on Twitter, arguing that the admonition to "get vaccinated for others was always a lie." He also appeared on Fox News on Oct. 11, discussing the exchange with host Tucker Carlson.
But Pfizer, the U.S. Food and Drug Administration, and news reports before the vaccine's approval were clear that while the vaccine was effective in preventing symptomatic and severe disease, there was no data about whether it stopped transmission to others.
Chances of Transmitting The Virus
Some may have been surprised at Small's answer, given public officials' comments about vaccines and transmission. Dr. Rochelle Walensky, director of the Centers for Disease Control and Prevention, and Dr. Anthony Fauci, director of the National Institute of Allergy and Infectious Diseases, have said that vaccination can help mitigate the spread of COVID-19.
The CDC in May 2021 changed its guidance on masking, with Fauci saying on CBS' "Face the Nation" that vaccinated people's chances of transmitting the virus to others were low. The agency reversed course on that guidance two months later, when it became clear that wasn't the case with the Delta variant.
But the notion that Pfizer "admitted" it didn't test its vaccine for its ability to stop transmission is incorrect.
Andrew Widger, a spokesperson for Pfizer, said in a statement that details of its phase 3 clinical trial have been online since 2020 and that the trial was never intended to study transmission.
The phase 3 clinical trial was "designed and powered" to evaluate the COVID-19 vaccine's efficacy in preventing disease caused by SARS-CoV2, including severe disease, Widger said. "Stopping transmission was not a study endpoint," he said, which means it wasn't an outcome being studied.
source :https://www.politifact.com/factchecks/2022/oct/13/instagram-posts/alleged-revelation-about-pfizer-vaccine-trial-noth/#sources