Press Release by Starbucks
New York November 15, 2022
Opening to the public on Nov. 16, the store offers new, exclusive experiences such as hands-on coffee workshops, guided tasting flights, and an extended artisan menu of new Princi food.
Starbucks today unveiled the new Starbucks Reserve Empire State Building store which opens its doors to the public on Wednesday, Nov. 16 at 9 a.m. ET.  Spanning 23,000 square feet and three floors, this unique store celebrates connecting over coffee through innovative experiences such as immersive hands-on workshops and guided tasting flights, new coffee beverages, and craft cocktails, and an extended artisan menu of Princi food only available at this location.
Connecting Over Coffee
"Starbucks Reserve locations are designed to spotlight our exquisite Starbucks Reserve® coffee and showcase our heritage, expertise, and dedication to coffee craft through interactive coffee experiences where barista craft is the cornerstone," said Mark Ring, SVP of U.S. retail at Starbucks.  "The Starbucks Reserve Empire State Building store is a one-of-a-kind destination that highlights our commitment to push the boundaries of coffee craft and offers our customers new, immersive and multi-sensory coffeehouses that are designed to inspire and create moments of connection in this special space."
"We are honored to have been a part of New York City for more than thirty years and the iconic Empire State Building for almost 15 years.  We look forward to welcoming customers to the new Starbucks Reserve Empire State Building store on Nov. 16, an experience like no other, in a city like no other," said Ring.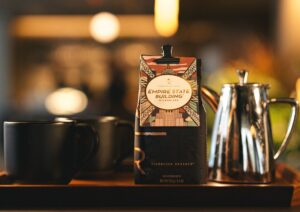 Unique Coffeehouse Experiences
On the first floor, customers can enjoy a variety of Starbucks beverages from signature Starbucks Reserve® beverages such as the Hazelnut Bianco Latte and Nitro Almondmilk Mocha, to favorites like Starbucks Caramel Macchiato and Starbucks Refreshers® beverages, as well as seasonal coffees like the Peppermint Mocha – all crafted with Starbucks Reserve coffee.
The store will also exclusively serve and sell Starbucks Reserve Empire State Building® Micro blend, a coffee that was inspired by and honors the iconic building and is roasted locally at the Starbucks Reserve Roastery located in the Meatpacking district.
This unique coffee, which will be the primary blend used to craft the beverages and cocktails served throughout the store, offers notes of red and black fruit, vanilla, and spice with a smooth, chocolaty mouthfeel.
The new Starbucks Reserve Empire State Building store, located in New York City at the corner of 34th Street and 5th Avenue, opens today. Learn more about the stunning space and customer experiences here: https://t.co/wRgr4Zs8qx

— Starbucks News (@StarbucksNews) November 16, 2022
To complement the beverage menu, customers can also enjoy a selection of food from Princi, the renowned artisanal boutique bakery and café founded by Italian baker Rocco Princi. As the exclusive food purveyor at Starbucks Reserve locations, Princi offers a selection of freshly baked cornetti, focaccia, pizza, avocado toast, brioche, cakes, and tarts.
The first floor will also feature a personalized shopping experience where customers can browse a variety of curated local artist merchandise collections and explore seasonally rotating Starbucks Reserve whole bean coffee for purchase.
Leading in Coffee Innovation
Exclusive to the Starbucks Reserve Empire State Building store, customers can be among the first to experience the evolution of espresso with Starbucks Cold Pressed Espresso beverages. Designed by Starbucks, the patented brewing technology uses cold water and gentle, upward pressure to unlock a softer, sweeter espresso shot.
The Cold Pressed Espresso Tasting Experience is a guided, multi-sensory tasting flight featuring several new beverages such as the Iced Apple Americano and Malted Milkshake with Black Lemon. This reservation-only experience is offered daily at the Innovation Bar.
The Starbucks Reserve Coffee Workshops, also located on the concourse level, are interactive, small-group workshops that are grounded in coffee and beverage craft. These first-of-their-kind workshops include Whiskey Barrel-Aged 101, Starbucks Reserve Brewtender for A Day, Espresso Martini Flight Fundamentals, and Fun with Spirit-Free Spritzes.
Customers may purchase tickets to the workshops or make reservations for the Innovation Bar tasting on the Starbucks Reserve Empire State Building website in advance.
At the Experience Lounge, customers can relax and recharge with Starbucks Reserve beverages and a curated selection of small bites. Here customers can also order signature tableside flights such as the Single Origin Brew & Bites Flight, Espresso Martini & Dessert Flight, Cold Brew & Sweets, or the Empire Affogato Flight.
Next-level food and cocktails
The restaurant and bar on level two is a space made for gathering, sharing, and connecting. Here customers can enjoy artisanal food from Princi created exclusively by Starbucks Reserve. The menu features signature tasting boards and plates, and entrees for brunch, lunch, and all day long. Honoring Starbucks' tradition of starting gatherings with a coffee tasting, every meal will start with a complimentary first sip tasting of Starbucks Reserve Empire State Building Micro blend.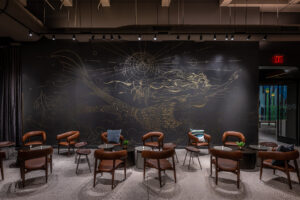 On this level, customers can also enjoy a selection of thoughtfully curated Starbucks Reserve cocktails to share that pay tribute to this iconic space. Available exclusively at this store, the coffee and tea sharable cocktails include the Empire Negroni, Siren Tea Punch Fountain, Starbucks Reserve Royale Experience, and the Big Apple Blossom, which will be delivered table-side. A selection of signature Starbucks Reserve coffee cocktails, such as the Starbucks Reserve Boulevardier and Espresso Martini, and classic cocktails are also available.
Starbucks' heritage in New York City dates to 1994 and the company has operated stores in the Empire State Building since 2008. New York City continues to be a place where Starbucks introduces new store concepts and offers a variety of experiences – from the first Starbucks® Pickup store to the immersive Starbucks Reserve® Roastery located in the Meatpacking district.
The Starbucks Reserve Empire State Building store opens on Wednesday, Nov. 16. For more information, including hours of operation, please visit.
About Starbucks
Since 1971, Starbucks Coffee Company has been committed to ethically sourcing and roasting high-quality arabica coffee. Today, with more than 35,000 stores worldwide, the company is the premier roaster and retailer of specialty coffee in the world.
Through our unwavering commitment to excellence and our guiding principles, we bring the unique Starbucks Experience to life for every customer through every cup. To share the experience, please visit us in our stores.