Children's clothing can be a difficult market to navigate — you're not only appealing to the kids who are wearing the clothes. You're also appealing to the parents who are likely buying them. When trying to source, design, and market a boy's hoodie that kids will love, there are so many considerations that it can get overwhelming.
How do you appeal to the vast interest of boys? How do you also show the parents your hoodies are affordable yet quality? It can feel like a daunting task.
Luckily, we've got tips to help you sell a boy's hoodie that kids (and their parents) will love. 
Identify Your Target Market
Rather than trying to appeal to all boys' different styles and interests, try to focus on a few.
You'll be much better off finding a niche than trying to appeal to the entire boys' clothing market. However, creating a few examples of "characters" of boys and their parents shopping for your brand's hoodies can be helpful.
Consider:
How old are they?

Where do they live?

What are their interests?

What do they like to do in their free time?
Don't feel like you have to limit yourself too much — be sure you have a focus and don't get carried away trying to cater to all parents' and boys' hoodie needs.
Comfortable Styles
There are a few different styles of hoodies available.
Full-zip Boys Hoodie: This style features a full-length zipper on the front. It can be worn open over a t-shirt or zipped up for extra warmth.
Pullover Boys Hoodie: This style slips over the head and often features drawstrings and a pocket on the front.
Both of these styles are versatile and great for everyday wear. They can be dressed in jeans or slacks or worn casually daily with sweatpants or joggers. And they're easy for younger boys who may need help getting dressed and those who are happy to put an outfit together.
Regardless of the style, opt for one that's comfortable and that boys will reach for time and time again.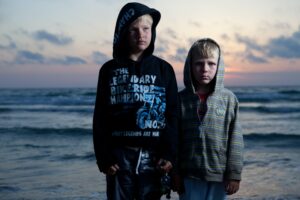 Comfortable, Affordable Materials
Search for brands that sell materials made with a blend of natural and synthetic fibers. They will hold up the best and be the most comfortable for boys.
As you search for comfortable, affordable materials, an ideal fabric blend to search for is cotton and polyester. Specifically, search for ring-spun and combed cotton over C.O.E. Compared to the alternatives, C.O.E. is not nearly as soft, breathable, or comfortable for kids.
The polyester adds an element of durability and warmth to hoodies. Therefore, helping the hoodie withstand the sports, running, and other activities boys love.
Blends like this are comfortable and affordable, making them a top choice for boys and their parents. Comfortable clothes don't have to be expensive — shop for kids' hoodies wholesale at Bella Canvas to buy in bulk and save even more.
Quality and Durability
Whether they're playing sports, swinging on the monkey bars, or gaming on the couch, every parent knows how important it is for the clothes they buy for their kids to hold up from day to day.
Find a manufacturer or supplier who focuses on durable styles and materials. You also want to ensure that the manufacturers making your kids' hoodies take pride in overall product quality.
For example, do they use tubular production? While this allows for clothes to be made cheaper, it sacrifices durability. Will threads be coming apart after a few wears? Is the fabric going to pill after a few weeks?
You don't want to choose a hoodie design simply because it's cheaper and falls apart after a week. Instead, it would be best if you had something that can withstand a kid's running around outside at recess and any spills that may happen as life does.
Designs Boys Will Love
If you're wondering how to find designs boys will love, it can be challenging to find something that appeals to all of them.
Some may love bright, bold colors and patterns.

Some may want a basic design they can throw on without thinking about it.

Some may prioritize more sports-centric designs.

Some may have a strong love of graphic prints with funny sayings.

Some may prefer blank designs with no words, images, or

phrases

.
Remember your target market, and create designs based on your "characters" and their shopping needs. Appeal to their interests.
One of the easiest ways to cater to the different boys' styles is to shop blank, wholesale hoodies and customize them with your prints and embroidery. As a result, you can stock a few quality styles and colors in various sizes and customize them with whatever graphics, wording, or embroidery suits your brand.
In addition, you won't end up with dead stock at the end of each season, as you can continually update your blank clothing with fresh styles.
For example:
Graphics

: Whether a picture of a soccer ball, their favorite character, or a fun geometric design, graphics are bright and bold and can easily be printed onto boys' hoodies to appeal to their broad interests.

Wording

: Whether it's fun or inspirational saying, kids and parents enjoy enjoyment from language spread across the front or back of a hoodie.

Embroidery

: Embroidery is a fun way to add a logo, a small picture, or other design to your boy's hoodies. It also holds up very well on the thicker fabric that hoodies typically have.
Be sure to search for a manufacturer or supplier who continually updates their designs with the latest trends. In addition, this ensures you're keeping up-to-date with the taste of boys and their parents.
As you gain a foothold in the boys' hoodie market, you can expand your offerings and add more designs to scale your business.