If you want to give your old utility a more technological touch, here I bring you great opportunities for its renovation.
Despite the fact that electric, autonomous, or at least almost autonomous vehicles already circulate on our roads, and a number of technological advances as never before had been observed, there are still many users who use cars close to the last century, as confirmed when we realize that we have one of the oldest car parks on the continent. If you are among the people who still need to buy a new radio for their car, you will have to take a look at our recommendations.
AWESAFE Car Radio
I believe that most car radios share a certain, and daring, design. In this case, under the purple of its lights, I present a product that has a wide variety of possibilities to enjoy music, programs, and podcasts from your own car. You will have the option of using its USB connection, the one for SD cards, the audio input, or Bluetooth connectivity, with the ability to act hands-free. By the way, it doesn't have CD support, but it doesn't have to, right? In addition, its huge 7-inch hidden screen will amaze anyone who gets in your car.
X-REAKO Car Radio
One of those ideal products for those who listen to music at full volume and love the lights of all colors is the one that I present to you in these lines. You can configure up to seven different colors, charge your mobile phone in the first USB input, it has a remote control so that the rest of the passengers have the freedom to change the radio station or the music that is playing and, how could it be otherwise, connects with your mobile phone via Bluetooth technology.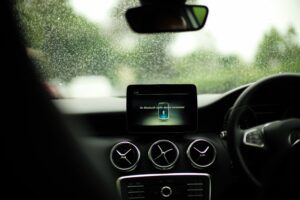 Pioneer MVH-S320BT Car Radio
One of the most interesting companies in terms of sound on the international scene, it also makes products dedicated to the automobile and, on this occasion, offers a radio with certain characteristics to highlight. It is compatible with iOS and Android devices, which means that you will have an exclusive application to control all the parameters of the product, as well as being compatible with the most popular music app, Spotify. Its USB input, which allows you to charge the devices, and its removable front are other great points in favor of this article.
Aigoss TC-SX5513-1 Car Radio
I want to end this series of recommendations with an article that has caught my attention both for aesthetics, it is obvious if you look at the photographs of the product, as well as for some of its functionalities. For example, this radio adds a remote control as a form of control, includes the possibility of charging your mobile phone through the USB input, and has a radio system that prevents, even in isolated areas, the tuning is lost.